Japanese Prime Minister Shinzo Abe visited Japan's former consulate in Lithuania on Sunday to honor Chiune Sugihara, a Japanese diplomat who defied orders and helped save an estimated 6,000 Jewish refugees during the Second World War.
"The courageous humanitarian act of Mr. Sugihara is highly appreciated by the whole world," Abe said in Kaunas, Lithuania's former capital. "I am really very proud of him."
The head of Lithuania's Jewish community, Faina Kukliansky, told AFP news agency, "Sugihara needed a lot of courage to do what he did, especially when we know that it was dangerous for him to defy the government's orders."
Read more: Japanese retain fascination with Anne Frank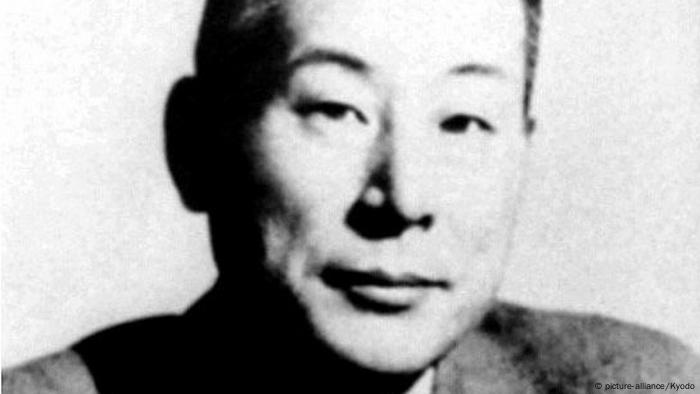 Sugihara's actions were unknown for many decades after the war
Defiant savior
Sugihara, who died in 1986 at the age of 86, worked tirelessly to give thousands of visas to Jewish refugees arriving from Poland shortly after the country was invaded by Nazi Germany and the Soviet Union in September 1939.
The visas, which Sugihara issued against the wishes of the Japanese government, allowed many Jews to travel via Russia to Japan despite Tokyo's alliance with Germany.
Most of the refugees who arrived in Japan were later interned in the Shanghai Ghetto until the end of the war.
German forces occupied Lithuania in June 1941 and killed some 200,000 Jews — the majority of Lithuania's pre-war Jewish population — before the end of the war in 1945.
Read more: 'British Schindler' Nicholas Winton dies aged 106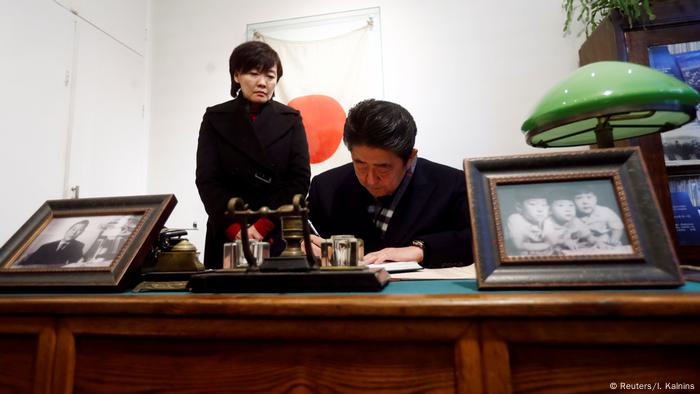 Abe said he was "very proud" of Sugihara
'Japanese Schindler'
Israel's Yad Vashem museum honored Sugihara for his actions, which were unknown for many decades after the war, with the "Righteous among the Nations" title in 1984.
Some 22,000 people have received the title for their efforts to save Jews from death during the Holocaust.
Sugihara is known as "Japan's Schindler," a reference to German businessman Oskar Schindler who saved around 1,200 Jews during the war.
Read more: Schindler factory to become a Holocaust memorial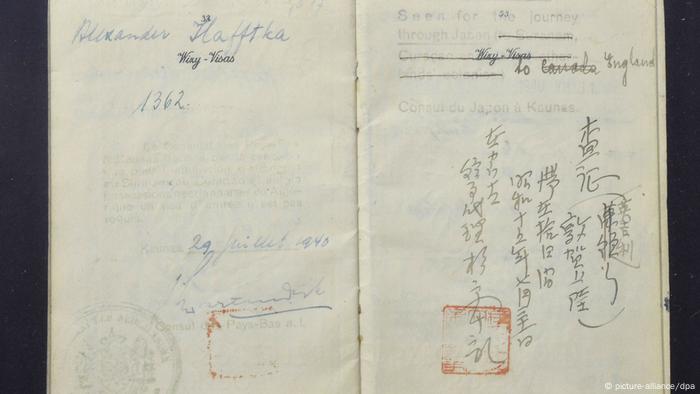 One of the original visas issued by Sugihara in 1940
Guidance today
"Mr. Sugihara provides us with guidance as to how we should survive in this world, where rule-of-law-based international order is being challenged in various forms," Abe said ahead of his visit.
Japan's prime minister has been one of the most vocal critics of North Korea's drive to develop nuclear weapons and ballistic missiles in recent years.
Pyongyang's defiance of United Nations resolutions and repeated threats against other countries have led to a tense war-of-words between North Korean leader Kim Jong Un and US President Donald Trump.
Abe, who critics say has downplayed Japan's wartime atrocities, is touring the Baltic states and will also visit Bulgaria, Serbia and Romania during a six-day trip.
Read more: Russia rejects request to release files on Swedish diplomat who saved WWII Jews
amp/sms (AFP, Reuters)