Plant operator Shikoku Electric Power said Friday it switched on the No. 3 reactor at its Ikata nuclear power plant in Ehime prefecture, about 700 kilometers (430 miles) southwest of Tokyo.
Japan ended nearly two years without nuclear power a year ago when Kyushu Electric Power restarted reactors on the southern island of Kyushu.
The island nation now has three operating reactors despite public skepticism following the disastrous 2011 Fukushima meltdowns that led to calls for Japan to phase out nuclear power.
The reactor is expected to start generating electricity on Monday and resume commercial operation in September in its first use since it was suspended in April 2011.
But furious local residents vowed to fight on.
"We protest this restart of the Ikata nuclear reactor and are extremely angry," the residents' group said in a statement Friday. The statement noted that the reactor's use of a plutonium-uranium MOX fuel makes it especially unstable. "We can't have another Fukushima."
Prime Minister Shinzo Abe and utility companies have been pushing to get reactors back in operation despite public worries over the safety of nuclear power and fears about radiation exposure.
In April, a court ruled that Japan's only two working nuclear reactors could remain online, rejecting an appeal by residents who said tougher post-Fukushima safety rules were not adequate.
Two other reactors in central Japan had also been restarted before a court in March ordered them back offline following a successful legal challenge.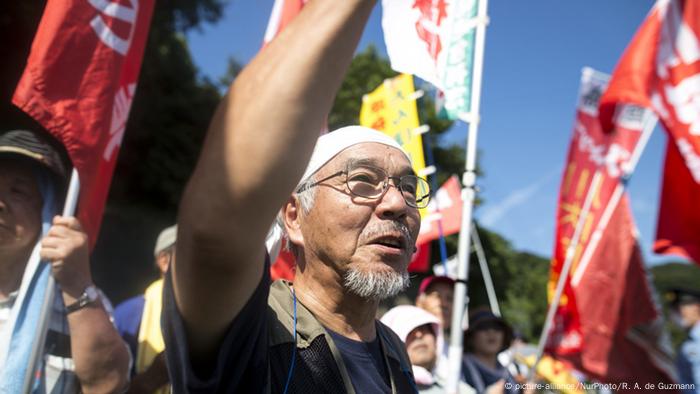 Anti-nuclear protesters chant in front of Ikata Nuclear Power Plant to protest against the restarting of a nuclear reactor on August 12, 2016.
Earthquake warnings
Kunihiko Shimazaki, a former member of the Nuclear Regulation Authority, warned earthquake hazards may have been underestimated in the screening process of Japan's reactors.
The Fukushima Daiichi Nuclear Power Station suffered a triple meltdown after it was hit by an earthquake and resulting tsunami that killed nearly 20,000 people and rendered entire swathes of coastland radioactive and uninhabitable.
Two reactors were halted in March after a court issued an injunction order prohibiting operator Kansai Electric Power from running the units at Takahama Nuclear Power Station on the Sea of Japan coast due to safety issues.
jar/kl (AFP, dpa)