The Italian Senate has voted in favor of an austerity package which intends to reduce the country's massive public debt.
The bill is being pushed through parliament by the center-right government of Prime Minister Silvio Berlusconi, and promises savings of 54.2 billion euros ($76 billion) over three years. Italy's public debt in 2010 amounted to 116 percent of gross domestic product.
Under the bill's austerity plan, the sales tax will be increased from 20 percent to 21 percent, a tax on high earners will be introduced and the retirement age of women in the private sector will be raised to 65.
The so-called 'rich tax' will see a surcharge of 3 percent on earnings above 300,000 euros a year ($423,000).
The upper house passed the bill with 165 votes in favor, 141 against and three abstentions. The bill must now be considered by parliament's lower house, the Chamber of Deputies, where Berlusconi also has a majority.
France passes bailout, Slovakia falters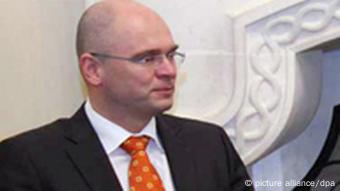 Slovakia's Richard Sulik is unconvinced about beefing up the bailout fund
Also on Wednesday, France's lower house of parliament approved a second bailout for Greece and austerity measures to cut France's debts.
The National Assembly, dominated by President Nicolas Sarkozy's conservative party, voted to make amendments to the 2011 budget allowing for the Greece aid. The amendment also includes tax increases and spending cuts.
In Slovakia, however, an influential member of the ruling coalition has vowed to block a Europe-wide plan to boost the power of the eurozone's bailout fund.
Richard Sulik, leader of the Freedom and Solidarity Party and parliamentary speaker, told the news agency AP that the measures were "a road to hell."
"European politicians have been solving the crisis for a year and a half and the situation gets worse and worse," he said.
The 440-billion-euro bailout fund will become the eurozone's main tool in fighting the debt crisis by helping out governments before they become engulfed in a full-blown crisis. But Sulik fears it does not represent a credible solution to the crisis.
Instead of creating new rules, Sulik argues the EU should "stick to the rules" already in place.
Slovakia's parliament has yet to approve the plan to reinforce the rescue fund and will hold a vote later this autumn. Without the votes from Sulik's party, the four-party coalition government does not have enough votes to push the legislation through parliament.
Author: Catherine Bolsover (dpa, AP)
Editor: Martin Kuebler