As the long process towards a coalition in Italy began on Monday, even before the final results were in, the response of the country's main partners in Europe focussed on a hope for Italian stability.
Chancellor Angela Merkel's spokesman Steffen Seibert said on Monday: "Italy is a profound friend and partner and we hope for a stable government for the good of the country and Europe." The EU Commission's spokesperson also expressed confidence for the formation of a "stable government" in Italy.
French President Emmanuel Macron drew attention to the stress in Italy of receiving hundreds of thousands of migrants from Northern Africa and the Middle East in recent years: "Today Italy has undoubtedly suffered from the pressure it has been living under for months and months, including a context of strong migratory pressure. We have to bear that in mind," Macron said.
Read more: Luigi Di Maio: The populist leader eyeing victory in Rome
Divided across parties of the left, center and right, more than half of Italian voters cast their ballots for populist, anti-establishment candidates and many for anti-EU and eurozone campaigners.
One newly elected MP for the far-right League (formerly the Northern League), Claudio Borghi, a strong advocate for Italy to leave the euro single currency, said the results sent a clear message to Brussels. "The will of the Italian people is clear, the parties in support of what the EU has done have been downsized. It's a very strong message," Borghi told Italy's Sky TG24 television.
Read more: Matteo Salvini: Italy's far-right success story
Five Star Movement 'triumph'
Ahead of the final result expected later on Monday, the anti-establishment Five Star Movement headed by 31-year-old Luigi Di Maio looked set to emerge as the largest party, with over 30 percent of the vote.
Speaking at the movement's party headquarters in Rome, Di Maio said: "These elections have been a triumph for the Five Star Movement, we are the absolute winners." The party, he said, had tripled the number of its elected lawmakers.
"We are a political force that represents the whole country," Di Maio said. "That's why we feel the responsibility to give Italy a government."
"We are ready to talk with all the other political forces, starting from the election of the two speakers of the chambers," the Five Star leader proposed.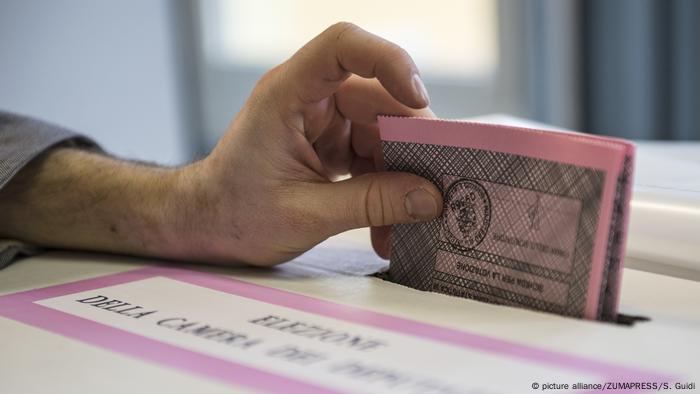 Italian voting box in Turin
League 'victory'
The center-right alliance made up of Matteo Salvini's far-right league looked set to become Italy's third-largest party with about 18 percent of the vote and give him a stronger claim to become prime minister than a Forza Italia candidate named by Berlusconi, who is banned due to a conviction for fraud.
But to reach the 40 percent benchmark for making a government, he would need to include both Prime Minister Silvio Berlusconi's Forza Italia and the far-right Brothers of Italy, although that would probably only bring Salvini a total 38 percent of the vote; only enough for a fragile government with a tiny majority.
However, Salvini took a similar line to Di Maio's as he spoke on Monday: "This was an extraordinary victory, which fills us with pride, joy and responsibility," adding: "Millions of Italians have asked us to join hands with this country and free it from uncertainty."
"The center-right is the coalition that won and that can govern," Di Maio said, ruling out what he called "weird alliances" with other political groups.
Salvini criticized both the euro and European Union restrictions on national budgets "The euro was, is, and remains a mistake," he said but stopped short of proposing a referendum on Italy's continued participation.
Analysts at LUISS university in Rome reported the Five Star Movement did well in provinces where unemployment is high. The League campaigned on a strong anti-migrant message and did well in areas which had seen the strongest growth in foreign residents.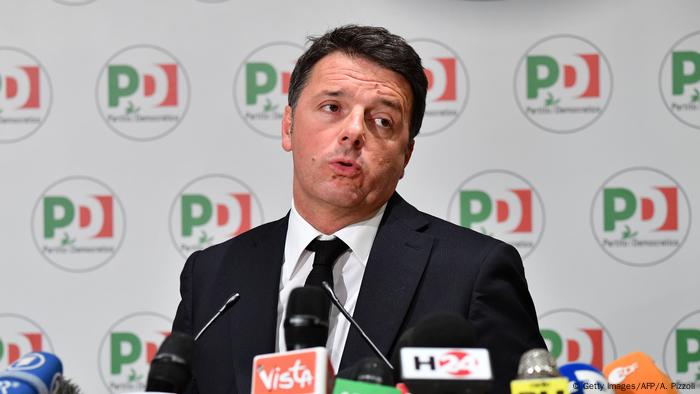 Matteo Renzi former PD premier and former PD leader
PD: Second and out as Renzi steps down
While the PD party of former premier Matteo Renzi appeared to be placed second with nearly 19 percent of the vote, the poor showing compared with previous elections appeared to signal the end for Renzi himself.
"This is a very clear defeat for us," said former agriculture minister and deputy PD secretary Maurizio Martina. "We are expecting a result below our expectations ... This is very clearly a negative result for us."
Renzi resigned on Monday as leader of the PD after the election defeat. As he made the announcement, he said the PD would not help the Five Star Movement or the League to form a new government.
"You know what? You can make a government without us," Renzi said. "Be advised that we will be in the opposition .... that's where Italian citizens asked us to be."
"The PD was born ... against anti-establishment forces and it will not become a crutch for a government formed by anti-establishment forces," he adds.
A possible alliance, or other?
While they once rejected any idea of power-sharing, the Five Star leaders have become more nuanced on the subject, suggesting they could discuss common policies but would not negotiate over cabinet posts.
There have been suggestions over an alliance between the Five Star Movement and the League. This would mean a focus on shared ideas such as euroskeptism and a pro-Kremlin outlook while putting to one side differences on migration. But many Five Star Movement voters identify with the Italian left, while League voters are more generally to the right of the political spectrum.
jm/rc (AFP, Reuters)
Each evening at 1830 UTC, DW's editors send out a selection of the day's hard news and quality feature journalism. You can sign up to receive it directly here.