Israel's interior minister and a right-wing lawmaker on Thursday assailed the marriage of an Arab and Jewish celebrity couple, deeming the inter-religious wedding a threat to Jews and the state of Israel.
Israeli Arab news anchor Lucy Aharish, who speaks Hebrew, married Tzachi Halevi, an Arabic speaking Jewish actor, on Wednesday.
Aharish, 37, was born in southern Israel to Muslim parents and was the first Arab to anchor a Hebrew-language program on Israeli television. Halevi plays the role of a secret agent in the Netflix show "Fauda."
"We are signing a peace accord," the couple was quoted as joking by the Israel Hayom newspaper.
The couple reportedly kept their four-year romance a secret for fear of sparking a backlash from Arab and Jewish hardliners.
Read more: Opinion: Israel's new nation-state law and the politics of superiority
Israeli Interior Minister Arye Deri, an ultra-Orthodox rabbi and a founder of the Shas party, said "pain of assimilation worldwide is consuming the Jewish people."
"It's their own private affair. But, as a Jew, I have to tell you that I'm against such things because we must preserve the Jewish people," Deri said in an interview on Israel's Army Radio. "(Their) children will grow up, go to school and later want to get married, and then they'll face difficult problems."
"If she [Aharish] desires Judaism, then there's the process of conversion," he said.
In Judaism, only the children of a Jewish mother are considered Jewish. Only those who convert according to ultra-Orthodox rules are recognized as Jewish.
Oren Hazen, a lawmaker from Prime Minister Benjamin Netanyahu's right-wing Likud party, wrote on Twitter on Wednesday that mixed marriages threatened Jewish purity.
"I don't blame Lucy Aharish, who seduced a Jewish soul with the aim of harming our country and preventing another Jewish generation from continuing the Jewish dynasty," Hazan wrote in Hebrew. "On the contrary, she is invited to convert to Judaism."
"I do blame Tzachi 'the Islamicizing' Halevy, who took Fauda a step too far – Bro stop being delusional. Lucy, it's not personal, but you should know Tzachi is my brother and the Jewish people are my people, stop the assimilation!" he tweeted.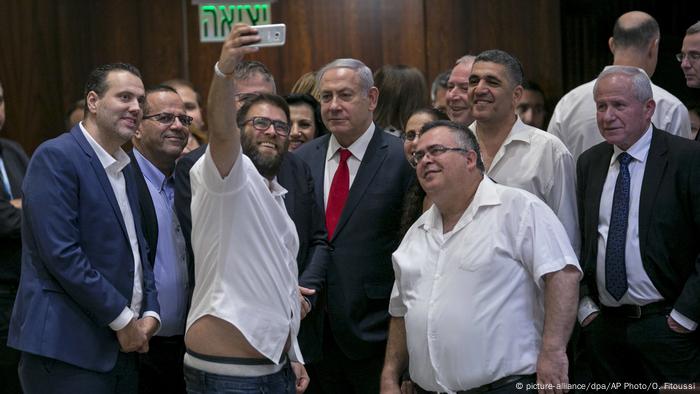 Hazan takes a group selfie with Netanyahu and other right-wing lawmakers after the passage of the controversial Jewish nation-state law earlier this year
Read more: Israel and BDS: A controversial boycott divides the West
After coming under criticism, Hazan defended his remarks, according to Haaretz newspaper.
"Your reactions, which try to turn assimilation into the right and heroic thing to do, explain what Prime Minister Netanyahu and Zionist Union chairman [Avi] Gabbay when they said: 'The left has forgotten what it means to be Jewish.'"
Netanyahu repeatedly rails against what he says are leftist plots against Israel, going so far as the employ anti-Semitic tropes about American Jewish billionaire investor George Soros undermining Israel through his funding of liberal causes.
Condemnation from liberals
However, the statements from the Israeli right-wing provoked a backlash from liberal political and media circles, many of whom welcomed the Arab-Jewish wedding.
"Congratulations and happiness to this wonderful couple," Labor MP Shelly Yachimovich tweeted.
"Lucy Aharish understands better what it means to be Jewish than he who sends a nauseating, racist Twitter message," wrote Stav Shafir, another Labor legislator.
The right-wing lawmakers' reactions revealed the "dark, racist and embarrassing face" of Netanyahu's Likud party, opposition Zionist Union lawmaker Yoel Hasson said.
In a column in Haaretz, Yossi Verter slammed extremists in the Likud and Netanyahu's repeated failure to condemn racism.
"Substitute the word 'German' for 'Jewish' here and you've got the Nazi racial doctrine," Verter wrote referring to Hazan's tweet. "Talk of racial purity, prevention of 'assimilation,' seduction of the male and hostile exploitation of his fine, pure seed for nationalist purposes. In the name of such an ideology, six million Jews were murdered in Europe."
Some 20 percent of Israeli citizens are Arab Muslims, who complain often complain of discrimination. The Israeli-Palestinian conflict has often fed tensions between the two communities.
According to the latest national marriage data from 2015, only 23 of nearly 58,000 weddings were between Arabs and Jews.
cw/rc (AFP, Reuters)
Each evening at 1830 UTC, DW's editors send out a selection of the day's hard news and quality feature journalism. You can sign up to receive it directly here.