The US-backed Syrian Defense Forces (SDF) said they took a camp in Baghouz on Tuesday, where "Islamic State" (IS) militants had been besieged for months, bringing them close to capturing the last remaining IS territory.
SDF spokesman Mustafa Bali announced the milestone on Twitter but warned it "is not a victory announcement, but a significant progress in the fight," adding he expected the remaining IS fighters to be defeated "very soon."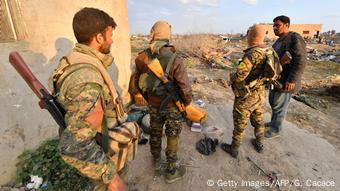 SDF forces
"The battles are not yet over. There are still some pockets next to the river," he posted, stressing that battles had been "fierce."
"On some fronts there are tit-for-tat attacks, on other fronts there are some advances," Bali said. He said hundreds of wounded and sick militants had been captured and sent to nearby military hospitals.
The camp was the largest area still held by Islamic State in the small town. Baghouz itself is the last populated territory the group controls, after seizing vast areas of Syria and Iraq and calling it an Islamic "caliphate," making its major gains in 2014.
If Baghouz falls, IS will no longer control any populated territory, although some of its fighters have held out in the central Syrian desert and others have disappeared into Iraq to stage shootings and kidnappings.
Earlier on Monday the SDF said it caught 157 mostly foreign fighters trying to escape the siege.
Read more: Opinion: 'Islamic State' may fall, but will not vanish
Drawn out battle
The battle for the besieged town, including the encampment, has dragged on for weeks as militants dug in using foxholes and underground tunnels and deploying car bombs.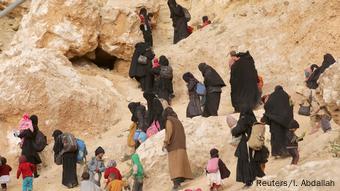 Over the past two months between 30,000 and 60,000 people streamed out of previously unknown tunnels and caves under the enclave, taking SDF forces by surprise. People who left said conditions inside were dire, with some forced to eat grass for lack of food.
According to Reuters, which quoted a figure of 60,000, around half of them were surrendering IS supporters, with 5,000 of them fighters.
SDF commanders say they do not know how many more may still be left hiding underground, making it difficult to predict when fighting could end.
ta/msh (AP, dpa, Reuters)
Each evening at 1830 UTC, DW's editors send out a selection of the day's hard news and quality feature journalism. You can sign up to receive it directly here.