Schalke fans unveiled a highly offensive banner during Saturday's derby game against Ruhr rivals Borussia Dortmund.
The message, displayed in the North Stand of the Veltins Arena in Gelsenkirchen, read: "Death to BVB!!! Freedom for Sergej W!".
The last part of the slogan refers to Sergej Wenergold, the man sentenced to 14 years in prison last month for attempted murder after he attacked the Dortmund team bus in April 2017 in an attempt to gain financially from the fall in Dortmund's stock market price.
Schalke are yet to comment but many fans are calling for those responsible to be banned from the Veltins Arena.
It is not the first such incident in German football, which has a reputation for fan activism that, while often positive, has over-stepped the mark several times of late.
'Incitement to murder'
Earlier this season, Borussia Dortmund apologized on behalf of their fans for the banner below depicting Hoffenheim owner Dietmar Hopp in crosshairs with "Hasta La Vista Hopp!" written beneath it. Hoffenheim labelled the banner an "incitement to murder" before Dortmund responded.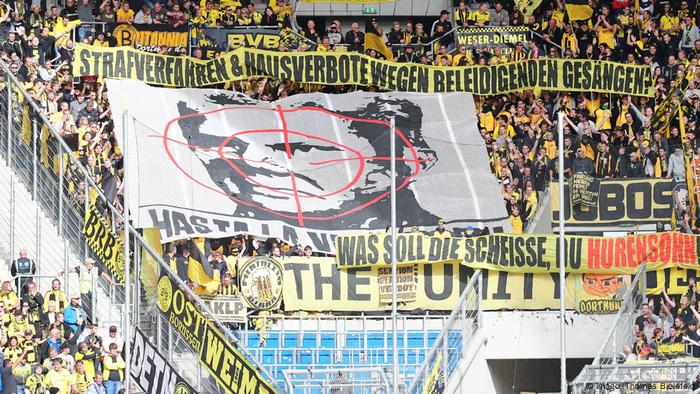 Dortmund fans have also found themselves in hot water offer offensive banners.
"Such behavior in no way corresponds with the values of Borussia Dortmund," said Dortmund CEO Hans-Joachim Watzke in a statement posted on the club's website.
Hopp's ownership of the club based in the tiny village of Sinsheim has long been controversial, with many fans seeing it as a distortion of Germany's 50+1 rule that requires majority fan ownership of clubs.
Dortmund were fined €50,000 and their fans are on probation at Hoffenheim away games until 2022. Any further incidents will result in a ban for BVB fans from three away games against Hoffenheim.
Hopp was also insulted by a number of Dortmund fans in the meeting between the sides in the previous season, leading to 33 banning orders, while a smaller version of the 'crosshairs' banner was unveiled when the sides first met in the Bundesliga in 2008.
Rangnick targeted
Fans of the Bundesliga leaders were involved in another distasteful display during their 2017 clash with RB Leipzig, another club who are seen to have swerved the 50+1 rule.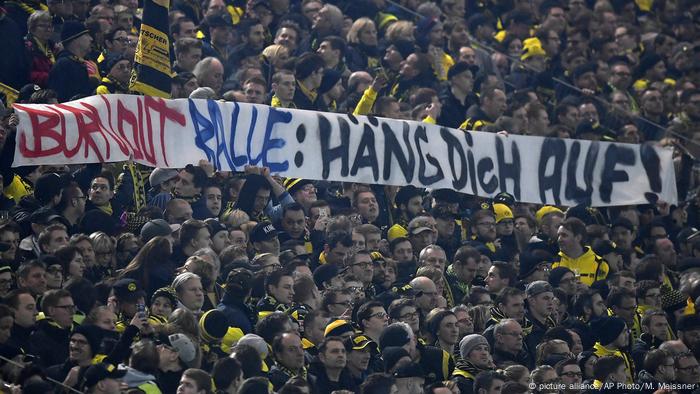 This message about Ralf Rangnick was one of many incidents that led to the close of the Südtribüne in 2017.
Among a host of banners on Dortmund's Südtribune, was the one above, calling on Ralf Rangnick, then Leipzig's sporting director and now the club's coach, to hang himself and referring to Rangnick's decision to leave his job as Schalke boss in 2011 citing exhaustion.
It was one of a number of incidents in that game that led to the closure of the Südtribune for a match against Wolfsburg and a €100,000 fine for Dortmund.
"Such a denigration and defamation of individuals and clubs through banners and abusive chants can not be accepted and must be sanctioned," DFB control committee chairman Anton Nachreiner said at the time.
Though death threats are relatively rare, a number of banners have proved controversial across Germany in recent years, with incidents involving fans of Cologne, Dynamo Dresden, St. Pauli and Energie Cottbus making headlines.