Iraqi Prime Minister Haider al-Abadi (pictured above) on Sunday announced his candidacy for the upcoming parliamentary elections to choose a prime minister.
Al-Abadi said he will seek to form a cross-sectarian block called "victory alliance'' in his bid for re-election, with candidates from other communities. The elections are expected to take place in May.
Read more: Protests rage in Iraqi Kurdistan
The alliance would aim to unify the country after a recent victory over "Islamic State" (IS) militants.
Al-Abadi, a Shi'ite Muslim, led the country in the four-year war against IS. He is credited for hastily rebuilding the Iraqi army and defeating the group in its major Iraqi stronghold of Mosul in July 2017, with assistance from the United States.
Read more: Children of 'Islamic State' struggle to integrate in Germany
Al-Abadi called on Iraqis planning to compete in the polls to join what he referred to as his "victory" list.
"The cross-sectarian Victory Alliance will work for all Iraqis, enhance the country's unity and national sovereignty, rectify mistaken courses and achieve justice and equality among Iraqis in terms of rights and duties," al-Abadi said in a press statement.
Read more: Iraq PM al-Maliki steps down, endorses replacement
The prime minister took over the premiership in 2014 from Nuri al-Maliki, a close ally of Iran who is widely criticised by Iraqi politicians for the army's collapse, which saw IS sweep through a third of the country.
Nuri al-Maliki also running
Al-Maliki, who is the head of the Shi'ite Dawa party, announced on Saturday he will be running in the elections. He is seen as al-Abadi's biggest challenger, and currently holds the ceremonial title of vice-president.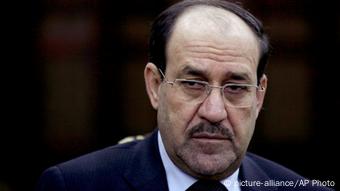 Former Iraqi Prime Minister Nuri al-Maliki
Al-Abadi is also a Dawa member, but he did not secure al-Maliki's endorsement for his candidacy.
Read more: Iraq PM al-Maliki steps down, endorses replacement
On Saturday, al-Maliki told Dawa supporters they would be free to choose between his alliance, called ''state of law," and al-Abadi's ''victory alliance.''
The prime minister's office is reserved for Iraq's majority Shi'ite Arab community under a power-sharing system set up after the 2003 US-led invasion that toppled Saddam Hussein, a Sunni Arab.
The largely ceremonial office of president is reserved for a Kurdish member of parliament. The speaker of parliament is drawn from Sunni Arab MPs.
Read more: From fighting 'Islamic State' to rotting in Iraqi jail
Iraq's cabinet has proposed May 12 as the date for the elections, but parliament is yet to approve it.
Sunni leaders have called for the vote to be delayed to allow the more than 3 million people displaced by fighting in the region to return home, but al-Abadi's government has insisted the elections be held on time.
The UN mission to Iraq said while the election commission faces "significant challenges" it would be able to "deliver a timely, fair and transparent national election."
law/jlw (dpa, Reuters)