For a second time in just over two months, French political and business leaders are putting out the welcome mat for Iranian President Hassan Rouhani, hoping to begin a new chapter with the strategic Middle Eastern nation.
Rouhani's trip to Paris was originally scheduled for November, but was abruptly cancelled following the terrorist attacks in the French capital that killed and wounded nearly 500 people. The Iranian leader sent a message to his French counterpart Francois Hollande calling the jihadist strikes "crimes against humanity."
Rouhani has dusted off his aborted agenda, as he pays a groundbreaking visit to Italy, the Vatican and France this week aimed at forging new ties with Europe as his country emerges from isolation.
He arrives in Paris on Wednesday after two days in Italy, where he met with Prime Minister Matteo Renzi and other top Italian officials, and spoke at an economic forum. He also held talks with Pope Francis, becoming the first Iranian leader to do so in almost two decades.
He comes empowered by the lifting of international sanctions against Iran earlier this month as payback for the nuclear deal struck with world powers in Vienna last year.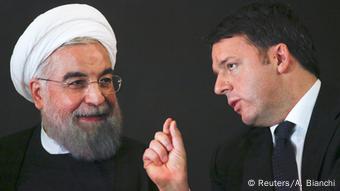 Rouhani visited Rome and the Vatican before Paris
"Iran's return to the international stage is possible," President Hollande said last week, but signaled it was up to Tehran to realize this by reducing tensions in the Middle East, and notably with Saudi Arabia.
For his part, Rouhani brings the message that Tehran is willing to do business with Europe, says analyst Philippe Moreau Defarges, of the Paris-based French Institute of International Relations. He went on to add, "He's here to say to heads of government and to Europeans, 'we are a normal state, we want peace, we want to work with you and strike deals with you.'".
Iran keen on foreign investment
The Iranian leader may get one of his warmest welcomes here from French business leaders, who are eager to join rivals in Italy and elsewhere in tapping a market of 75 million people. Rouhani says Iran's goal of eight percent annual growth can only be achieved through billions of dollars in foreign investment.
In an interview with French media late last year, he signaled areas like car manufacturing, agriculture and aviation "that will form the basis of our commercial agreements" with France.
Noting several major French companies were already present in Iran, including Toulouse-based European aircraft maker Airbus, Rouhani added, "We will buy from these big companies, notably Airbus."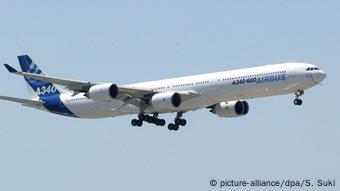 Iran plans to buy planes from Airbus
Indeed, on the eve of his trip this week, Iranian Transport Minister Abbas Akhoondi announced Tehran plans to buy 114 Airbus aircraft, with Reuters reporting that number might increase to 500 in a few years.
For their part, French carmakers Peugeot and Renault, are vying for Iranian business, while telecoms company Bouygues and Aeroports de Paris are reportedly in talks to construct a second terminal at Tehran's Imam Khomeini international airport. The Sephora beauty company and sporting goods retailer Decathlon reportedly also have plans to open stores there.
Tough competition
But French banks, including Credit Agricole and BNP Paribas, are more hesitant. They did not take part in a business delegation visiting Iran in September, underscoring lingering fears about the risks of investing there. Both were fined for violating US sanctions against Tehran.
Nor is everybody sold on the opportunities in the Middle East's second largest market. "The Iranian market is not the Chinese market," analyst Defarges says. "And I think that many French businessmen are going to realize that they're going to have to compete with many others, like the Americans, the British and the Germans. It won't be an easy game."
For his part, Rouhani faces diplomatic challenges. France and Iran have a long diplomatic history, but relations have been prickly in recent years.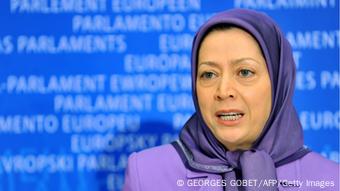 Maryam Rajavi leads the oppositional People's Mujahedeen from Farnce
While Iran's spiritual leader Ayatollah Ruhollah Khomeini spent part of his exile outside Paris, France today hosts many refugees from Iran's subsequent 1979 revolution. That includes Maryam Rajavi, leader of the opposition People's Mujahedeen of Iran, which is based in the small French town of Auvers-sur-Oise.
Other difficulties can be traced to France's own diplomacy. Not only did Hollande's government adopt one of the toughest Western positions during the Iran nuclear talks, but it is among the most adamant voices demanding the ouster of Syrian leader Bashar Assad - who counts Iran among his biggest champions.
There have even been gastronomic tensions. Rouhani's planned visit in November was overshadowed by reports of a cancelled state meal with Hollande over Iranian demands that only halal meat and no wine could be served.
Iran, however, wants to show it doesn't hold grudges, Defarges says. "It wants to show it's not bitter, it's willing to talk with anybody, including France," he says.
The context has also changed since November's terrorist attacks for which the "Islamic State", a shared enemy of Tehran and the West, has claimed responsibility. Defarges believes Hollande's government may be shifting back to France's historically pragmatic approach when it comes to Middle East diplomacy.
"Mr. Rouhani's visit to France will be easier than before the terrorist acts, because the French government knows now it must work with Iran," he says.
"Of course, Iran is not a very nice country," he adds, "but in a balance-of-power situation, the enemy of my enemy is my friend. Which is the case when it comes to the 'Islamic State."