Iranian President Hassan Rouhani called US President Donald Trump a "newcomer" and the new US administration "a problem" at a parade celebrating the 38th anniversary of the Islamic Revolution in Tehran on Friday.
Rouhani criticized US policy towards Iran, saying his nation would not tolerate threats.
"This turnout is a response to false remarks by the new rulers in the White House and the people are telling the world through their presence that the Iranian people must be spoken to with respect," Rouhani said at a rally. "We want no tensions, we are not a threat, but we will not tolerate threats and disrespect."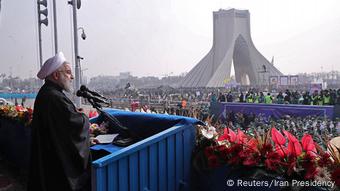 President Rouhani speaking at the anniversary march on Friday
Every February, Iran commemorates the anniversary of the Islamic Revolution with rallies around the country. In 1979, a rebellion backed by Islamists resulted in the fall of the US-backed monarchy. Since then, Iran and United States have had a difficult relationship. One of the many points of disagreement: Some among the Islamic theocracy do not accept Israel's right to exist.
Growing tension
US-Iranian ties had improved under former US President Barack Obama and Rouhani with the July 2015 nuclear deal between Iran and world powers including the United States, representing what many internationally saw as a breakthrough in Iran's relations with Western nations. But since Trump's inauguration, ties have deteriorated. Last weekend, James Mattis, the new US secretary of defense, said Iran was "the single biggest state sponsor of terrorism in the world."
On February 1,the United States put Iran "on notice" over a ballistic missile test. Two days later, Trump also imposed sanctions over the test. Tehran called the warning "baseless and provocative." The countries disagree as to whether the test violated a UN Security Council resolution that prohibits Iran from tests that could help develop a nuclear weapon.
Trump's travel ban is also a source of tension - Iran was one of the seven Muslim-majority countries included in the ban. Trump's executive order was halted by a federal court a week after going into effect after protests across the United States.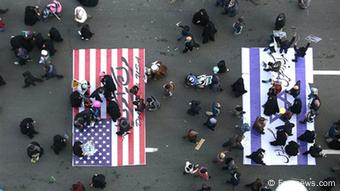 Demonstrators stomping on US and Israeli flags
'Long live American people'
On Friday, people marched through downtown Tehran with Iranian flag and banners and posters with revolutionary slogans. Printed US flags were flattened on the road and trampled or burned by some participants; people also threw balls and darts targeting pictures of Trump and Israeli Prime Minister Benjamin Netanyahu.
But some marchers drew a distinction between the American people and the Trump administration. While traditional "Down with America" slogans were prominently featured in Tehran, some banners added a twist, reading "Down with US regime, long live American people." Some marchers distributed flyers in English that read: "Thanks to American people for supporting Muslims." On social media, several Iranians had called for US flags not to be burned to acknowledge the efforts of the US citizens who had protested against Trump's travel ban.
mb/sms (AFP, AP, dpa, Reuters)