When fighters from Iran die in the Syrian War, they are hailed as martyrs by Iranian authorities. "The country owes much to them," stressed the director of the Foundation of Martyrs and Veterans Affairs, Mohammad-Ali Shahidi. On Tuesday, he officially announced that over 1,000 fighters from Iran have fallen in the Syrian Civil War. He said they were soldiers in the Fatemiyon division, now revered as defenders of holy sites. Iran views the Sayyidah Zaynab shrine in Damascus, dedicated to the granddaughter of the prophet Muhammad, as an important place of pilgrimage for Shia Muslims.
The army division named after Fatemiyon, the daughter of the prophet of Islam, is mostly made up of Afghan fighters. Fatemiyon belongs to the Iranian Quds Force, the elite unit of the Iranian Revolutionary Guard that is deployed in special operations outside Iran.
"Many refugees from Afghanistan have been recruited and have traveled to Syria because they either need money or a residence permit - or both," said Kamal in an interview with Deutsche Welle. "But many of them have lost their lives in Syria." Almost 30 years ago, Kamal himself fled from Afghanistan to Iran. He lives in southern Iran with his wife and three children but he still does not feel integrated into Iranian society. His children, who only know Iran, do not even have Iranian citizenship. They are still seen as unwanted refugees.
Second-class human beings
According the UN refugee agency UNHCR, about three million Afghans are currently living in Iran. Nearly a million of them are registered refugees. Almost 500,000 of them are immigrants with temporary residence and restricted work permits. The other one and half million have no documents and are considered to be illegal immigrants.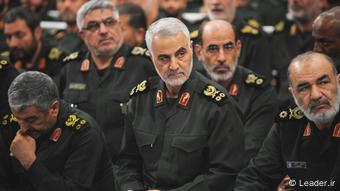 Ghassem Soleimani, commander of the Iranian Quds Force
They do not trust the authorities. They fear that they will be sent back or be put in a refugee camp. They go into hiding and are treated as second-class human beings, often subject to exploitation.
"I was a small child when my family fled from Afghanistan 36 years ago. I myself have four children now. We have been living in Iran for three generations but none of us has papers," said Fatemeh. She lives on the outskirts of Tehran. "We are not allowed to own anything, not even a SIM card." However, she does not want to send her son to war even though it would bring many benefits to the entire family.
Iranian citizenship as a guarantee for those left behind
When eligible Afghan men sign up for combat in Syria, they are paid almost 500 US dollars a month, said the refugees. They are promised basic schooling or a university education and better living conditions for their families.
At the beginning of May 2016, Iranian parliament passed a law guaranteeing Iranian citizenship for surviving relatives of "Fatemiyon division" fighters in the event of their death. Thus, families of killed Afghans would be placed under the patronage of the powerful martyr foundation, founded in 1980, a year after the Islamic Revolution. The foundation takes care of the survivors of the many people killed in the revolution and soldiers who died in the Iraq War. One year after the revolution, neighboring Iraq attacked Iran and the ensuing war lasted eight years until 1988.
The Martyr Foundation has gained greatly in importance over the past 36 years and has risen to become one of the most influential institutions of the Islamic republic. It owns a large number of companies and is active in all major business sectors: in production, trade, oil, mining, the automotive industry and even tourism. Anyone under the protective hand of the Martyr Foundation is on the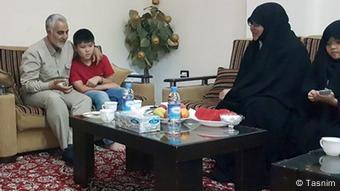 General Qasem Soleimani visits the survivors of the killed Afghans
safe side of society and even receives recognition.
According to reports by conservative Iranian media outlets, the Fatemiyon division has almost 20,000 fighters. Not only does it defend holy sites in Syria, but General Qassem Soleimain, commander of the Iranian Quds Force explains, "It defends the Islamic Republic of Iran and its ideals. The Islamic State terror group was established to limit Iran's influence in the region and to harm us." Iran sees itself as a protector of Shiites in the Middle East and supports Syria's regime led by Alawite Bashar al-Assad. Major General Soleimani draws a great deal of media attention with his visits to the families left behind by fallen Afghans and has pictures taken with their children.