Iranian Supreme Leader Ayatollah Ali Khamenei led the main weekly Muslim prayers in Tehran on Friday for the first time since 2012.
It comes as the country grapples with the aftermath of the killing of its top general in a US airstrike and widespread protests at the downing of a Ukrainian passenger jet by the Iranian military.
What Khamenei said:
Thousands of people attended the Friday prayers, occasionally interrupting Khamenei by chanting "Death to America!" and "God is greatest!" In his sermon, Khamenei said:
The killing of General Qassem Soleimani was a "disgrace for the US administration," and the US showed "its terrorist nature"
[US President Donald] Trump is a "clown" who pretends to support Iranians but will "push a poisonous dagger'' into their backs
Iran's ballistic missiles targeting US troops in Iraq had dealt a "blow to America's image" as a superpower
"That Iran has the power to slap the face of an arrogant power shows that God supports us"
The "real punishment" would be forcing the US to withdraw from the Middle East
The "cowardly" killing of Soleimani had removed the most effective commander in the fight against the "Islamic State"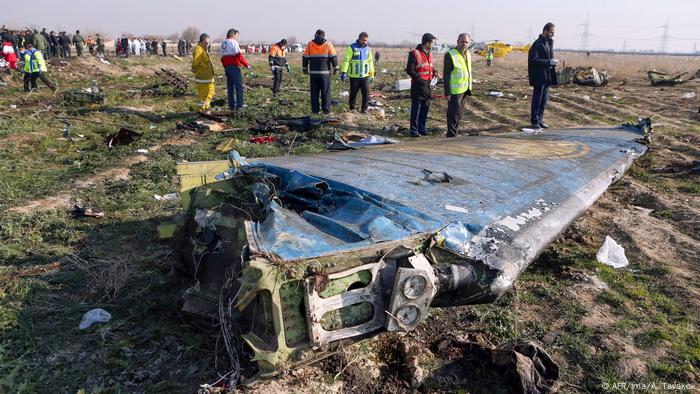 Iranian authorities admitted to downing a Ukrainian civil aircraft when launching ballistic missiles at US targets in Iraq
Khamenei lashes out at Europe
The Iranian leader said Western countries were too weak to "bring Iranians to their knees." He said that Britain, France and Germany, who tried this week to bring Iran back into compliance with the 2015 nuclear agreement, were "contemptible" governments and "servants" of the US.
"We should not forget that both Germany and France supported Iraq in the war against us," Khamenei said, saying that the European countries had shown themselves to be unreliable partners.
'Bitter accident'
Khamenei called the downing of a Ukraine International Airlines jet a "bitter accident that burned through our heart." He added that enemies used the crash as an opportunity to question the Islamic Republic and its forces.
"But some tried to... portray it in a way to forget the great martyrdom and sacrifice" of Soleimani, the leader said. "Our enemies were as happy about the plane crash as we were sad ... happy that they found something to question the Guards, the armed forces, the system."
Ukrainian Foreign Minister Vadym Prystaiko said Friday that Ukraine wants Iran to issue a formal document admitting its guilt.
Read more: Opinion: We need transparency from Tehran on Ukrainian place crash in Iran.
Trump hits back
In a series of tweets, US President Donald Trump hit back, urging Khamenei to "be very careful with his words."
Trump said:
"The notable people of Iran — who love America — deserve a government that's more interested in helping them achieve their dreams than killing them for demanding respect."
"Instead of leading Iran toward ruin, its leaders should abandon terror and Make Iran Great Again!"
"The so-called 'Supreme Leader' of Iran, who has not been so Supreme lately, had some nasty things about the United States and Europe."
"Their economy is crashing, and their people are suffering."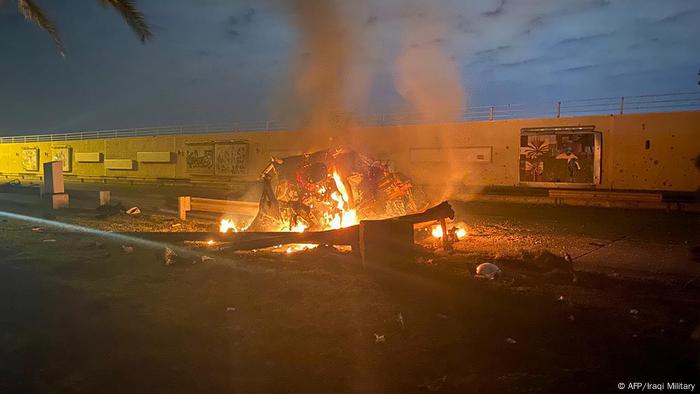 A picture published by the media office of the Iraqi military's joint operations forces on their official Facebook page shows a destroyed vehicle on fire following a US strike on January 3, 2020 on Baghdad international airport road
Why is leading Friday prayers significant?
Khamenei has held the country's top office since 1989 and has the final say on all major decisions. Friday prayers in the capital are often used when the leadership wants to impart a particular message.
The last time Khamenei led Friday prayers at the Mosalla Mosque in the Iranian capital was on the 33rd anniversary of the Islamic revolution in 2012.
In his sermon then, he called Israel a "cancerous tumor" and promised to support anyone opposing the country. Khamenei had also warned against any US strikes on Iran over its nuclear program, saying the US would be destroyed "10 times over."
Read more: Pro-Iranian militias: How autonomous are they?
Tumultuous month for Iran
Iran's Revolutionary Guard accidentally shot down a Ukrainian International Airlines passenger plane on January 8, mistaking it for an American counterattack.
The plane was downed shortly after it took off from Tehran's main international airport, killing all 176 people on board, mostly Iranians and Canadians.
Iranian authorities concealed their role in the downing of the jet for three days, initially attributing the crash to a mechanical problem. After Tehran announced its responsibility in the crash, angry protesters took to the streets, with security forces firing tear gas and live ammunition at demonstrators.
mvb/sms (AFP, AP)
DW sends out a daily selection of the day's news and features. Sign up here