Iran's judiciary ordered the popular Telegram instant messaging app be shut down to protect national security, state TV reported on Monday.
The order follows a temporary ban introduced by the government in January after dissidents used it to organize protests.
Read more: Mummified body in Iran poses a political headache
The fallout
State TV reported that the prosecutor has ordered that companies block the app in a way that would not allow users to bypass the restrictions using a virtual private network.
Though Telegram has been used by dissidents to successfully organize mass protests, Iran's authorities say the app's primary clientele comprises terrorists and pornographers.
In anticipation of the ban, many government-affiliated users had already switched to Iranian alternatives to the international service.
Read more: Russian court blocks Telegram messaging app
'Against the establishment'?
"Considering various complaints against the Telegram social networking app by Iranian citizens and based on the demand of security organizations to confront the illegal activities of Telegram, the judiciary has banned its usage in Iran," state television reported when announcing the decision on Monday.
Mizan, the website of Iran's judiciary, reported that authorities had ordered the app's shutdown for actions that "included propaganda against the establishment, terrorist activities, spreading lies to incite public opinion, anti-government protests and pornography."
Telegram had just been returned to Iran and several other countries after servers in the company's home base of Dubai overheated at the weekend: "The service is now restored for most of Europe, Africa, Russia and CIS," Telegram's social media team wrote on Twitter Sunday, referring to the Commonwealth of Independent States, "Iran and Middle East coming soon."
Read more:Iran unblocks Telegram messenger service shut down during countrywide protests
Possibly preemptive measure: Media speculate that authorities finalized their ban on the service ahead of the May 12 deadline for US President Donald Trump to decide whether he will renew sanctions relief for Iran in accord with the 2015 multination deal reached by his predecessor, Barack Obama. Should Trump refuse, the effects on the domestic economy could see Iranians take to the streets to protest their government all over again.
Read more: 6 top-scoring encrypted messaging apps you should try if you're worried about privacy
Fits a pattern
Iran is also currently at the center of several regional disputes, having engaged Middle East rivals by proxy in the civil wars in Yemen and Syria, in addition to attempting to providing a stabilizing role in Iraq.
The order by Iran's judiciary came as people have taken to the streets in Russia to protest a block on the Telegram service there and even the leaders of states less frequently described as rogue have set their sights on putting an end to encrypted user-to-user communications.
Read more: UK's Rudd launches attack on messaging app encryption
The domestic alternative
Officials have encouraged Iranians to use domestic alternatives to Telegram in advance of the ban, including the new Soroush app. However, many people fear that the security services may have built spying capabilities into such apps and have proved reluctant to use them.
Read more: Brief WhatsApp ban in Brazil sends users scrambling for alternatives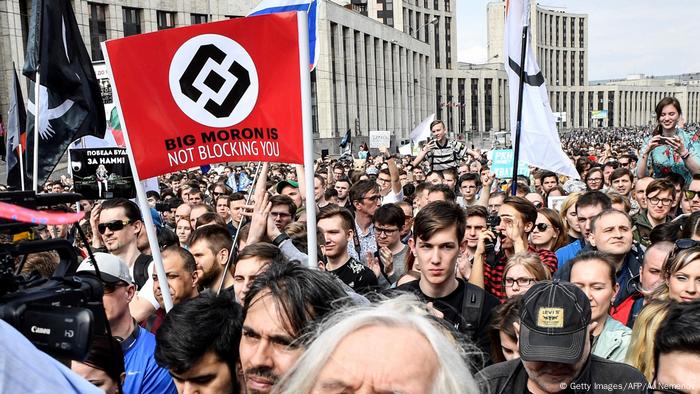 At rallies Monday, Russians demanded their Telegram back — and a free internet, too
mkg/rt (Reuters, AP)
Every evening at 1830 UTC, DW's editors send out a selection of news and features. You can sign up to receive it here.