The International Criminal Court (ICC) ruled Monday that Sudan has failed to arrest its leader Omar al-Bashir for genocide and war crimes, calling on the UN Security Council to "take the necessary measures" to address the matter.
President Bashir, 71, is suspected of genocide and war crimes in Sudan's western region of Darfur, where an insurgency that began in 2003 sparked an ongoing conflict that has left more than 300,000 people dead, according to the UN.
The ICC issued an arrest warrant for Bashir in March 2009, but has no police force of its own to enforce such arrest orders and relies on its member states to cooperate. Bashir rejects the authority of the ICC.
"Sudan has failed to cooperate with the Court by constantly refusing to engage in any sort of dialogue with the responsible organs of the Court over the past six years and to execute the pending requests for the arrest and surrender" of Bashir, a court statement said.
It was the UN which first urged the ICC to investigate atrocities in Darfur, a move that eventually led to Bashir being charged with genocide. The ICC expressed its frustration Monday over an apparent lack of support from the UN Security Council.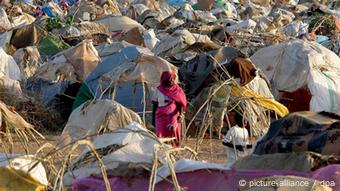 Since 2003, the Darfur conflict has killed more than 300,000 and displaced millions according to the UN.
"If there is no follow-up action," the ICC warned, any referral the court received "would never achieve its ultimate goal, namely, to put an end to impunity."
"This course of action calls upon the Security Council to take the necessary measures they deem appropriate," the judges said.
The UN Security Council has the power to authorize penalties ranging in scope from embargoes to military intervention, but few observers expect the Council to impose sanctions severe enough to prompt Sudan to hand over its leader. The Council has not yet issued a statement relating to the latest ICC charges.
Bashir, for his part, has claimed that the ICC is part "of the tools used to destabilize Sudan," and has denied that there was a genocide in Darfur targeting the region's non-Arabs. He is expected to be returned to office in elections scheduled for April.
bw/jr (AP, AFP, Reuters)