Greece announced on Thursday that it had finished clearing its controversial refugee camp at Idomeni. All that remained of the camp that saw thousands of migrants stranded for months were a few tents and some supplies, according to authorities.
"The clearing out passed without the use of force," Civil Protection Minister Nikos Toskas told public broadcaster ERT.
There were still 8,400 refugees on the camp's grounds as recently as Tuesday. Around 3,300 were put on buses and sent to other facilities around the country, while the remaining people are assumed to have either left on their own or simply moved their tents further along the fenced-off border with Macedonia.
Originally set up by the UN refugee agency last September, the Idomeni camp was meant to hold a maximum 2,000 people on a short-term basis as they made their way along the Balkan route to northern Europe during the peak of the continent's refugee crisis.
That number ballooned to 12,000 - the number who were trapped there when Macedonia closed off its border with Greece in March, stranding them at the frontier while the conditions in the camp deteriorated.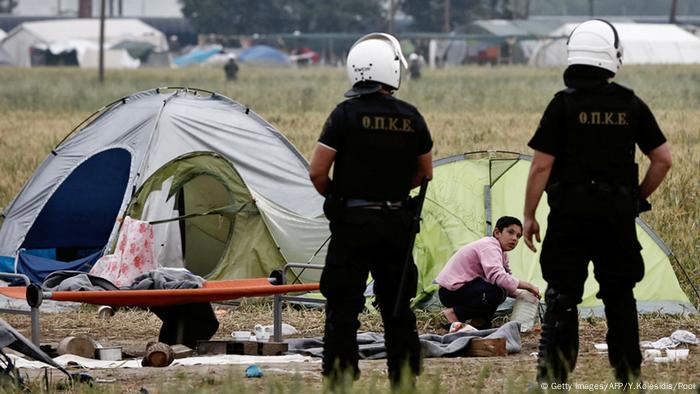 The whole operation to clear the camp took only three days
Save the Children: New camps just as bad
But activists warned that the closing of the camp is no reason to celebrate. According to Save the Children, the camps to which the former residents of Idomeni had been brought were just as bad, if not worse.
Spokeswoman Amy Frost said the Greek refugee camps were little more than concrete floors with tents over them, and the refugees were not provided with sheets or blankets.
"For many people, the relocation is yet another terrible experience" on top of what they have already endured, said Frost.
The organization Doctors Without Borders (MSF) also called into question the way in which the Idomeni camp was cleared. On top of the speed at which it was done, the group charged that the number of humanitarian aid workers allowed to assist was greatly reduced, leaving some patients with chronic conditions like diabetes and epilepsy without crucial medical care.
es/sms (AFP, dpa)