Two rescue vessels were directed by reconnaissance aircraft to the capsized vessel 50 kilometers (30 miles) off Libya's coast, according to initial reports by Italian Coast Guard officials on Thursday.
Germany's DPA news agency quoted European Union Naval Force Mediterranean mission spokesman Rino Gentile as saying about 20 bodies had been spotted in the water.
Italian Coast Guard spokesman Commander Cosimon Nicastro told the Associated Press that 88 other people had been rescued, but he added that did not have information on whether bodies were recovered.
Italy's coast guard said it had been coordinating 22 rescue operations in the Mediterranean on Thursday, bringing more than 4,000 migrants to safety.
"That probably is a record," said Nicastro, noting that previous highs have been in the range of 5,000 to 6,000 over two days.
On Wednesday, Italy's navy had released footage of a previous dramatic capsize. According to AFP news agency, survivors from that shipwreck said some 650 migrants had been on board. Up to 100 people were said to be missing and possibly trapped in the boat's hull.
Thousands and thousands waiting
Hundreds of thousands of migrants were waiting along northern African coastlines, mainly in Libya to attempt crossings to Europe, said the private rescue organization "Sea Watch" on Thursday.
Its initiator, Harald Höppner, told DPA that assuming the weather stayed calm "we expect a massive transit of migrant boats from Libya."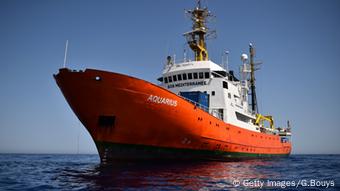 Migrants rescue by the Aquarius describe abuse in Libya
The UN estimates that so far this year 34,000 people have reached Italy after being rescued off Libya, where people traffickers use the country's political instability to run their smuggling and trafficking operations.
Referring to estimates of more than 1,000 migrant deaths in the Mediterranean so far this year, Höppner said the unrecorded figure was probably significantly higher "because boats that are not found are not registered."
The so-called Balkan Route used by refugees from the Middle East and Africa to travel mainly overland to Europe was closed early this year.
Harrowing accounts of Libya
The French news agency AFP said its interviews with migrants on board rescue vessels of SOS Mediterranean and Doctors without Borders (MSF) highlighted atrocious conditions in Libya.
It quoted a woman from Cameroon who said: "The only place you can go to is the sea. It is Europe or death."
Migrants have consistently spoken of mistreatment in Libya, including beatings, abductions, rapes of women and cases of men being sodomized.
Among those picked up by the SOS vessel MS Aquarius the majority came from Cameroon, Ivory Coast, Gambia and Guinea. Also on board were dozens from Eritrea, South Sudan and Somalia, AFP reported.
Job creation lacking
On Tuesday, the Berlin-based Institute for Population and Development published a study saying that Middle Eastern and northern African nations were failing to generate enough industrial-era jobs for their expanding, demographically young populations.
"Unless society succeeds in offering these persons a perspective to find a job then the refugee numbers from the region will rise long-term," said Reiner Klingholz, the institute's director, adding that only 40 percent of this group was employed, often in activities without long-term formal contracts.
On Tuesday, the International Organization for Migration (IOM) said Libya's coast guard had also been turning back migrants since the formation of a nascent UN-backed unity government in Tripoli.
The IOM said it was also trying to organize charter flights to repatriate sub-Saharan migrants back home.
ipj,nm/sms (AFP, dpa, AP)