A measles outbreak and a spike in cases of malnutrition in Asmat and Pegunungan Bintang Regency in Papua province have killed almost 100 people, mostly indigenous toddlers, according to officials.
"This is the sixth extraordinary measles epidemic event in Asmat," the director general of protection and social security at the Ministry of Social Affairs, Harry Hikmat, said.
"Measles is actually a mild disease and not lethal, but because those children are malnourished, they can't cope in that condition," he pointed out.
The first case was detected in September 2015 in Asmat and the death toll from both it and malnutrition has to date risen to 70 and spread to Pegunungan Bintang, where over 20 people have been reported dead.
Hundreds more children and several adults are being treated at a hospital in the Asmat capital, Agats.
Priest Hendrikus Hada, who helps the victims with his team in Asmat, said the situation of the villagers remains very critical.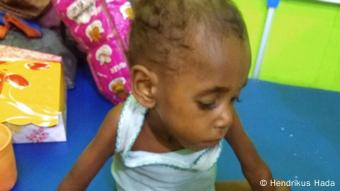 The measles outbreak is feared to have killed about 100 malnourished people in Indonesia's Papua
"It is a very, very depressing situation. We have to work hard to help them, sacrifice time and energy. We need a lot of energy and money to support them. Helping them is a long process," he said.
Limited access
The Indonesian government recently sent a medical team of doctors and paramedics to assist in the response to the measles outbreak, supplying villagers with medicine, vaccines, medical equipment and nutritious food.
But Hikmat said the geography of the location makes it difficult to transport any kind of aid to the region.
"We tried to send food, medicine by boats, but a dozen villages still can't be reached so far," he said.
But access in Papua is hampered by limited road networks, especially in the more remote parts. Some 130,000 people live in the province, which can only be reached by plane, boat or helicopter.
The local government is offering to move residents from remote areas to the nearest cities, so they can be closer to health units.
Read more: To vaccinate or not to vaccinate?
On Tuesday, President Joko Widodo (Jokowi) ordered military commander Marshal Hadi Tjahjanto to form a joint task force with the police unit to handle the measles outbreak in Asmat dan Pegunungan Bintang, Papua.
The task force will work throughout 2018 and later will also deploy medical personnel, including some skin specialists whom Asmat residents desperately need.
Rapid expansion a key issue
"There are so many external factors that come into their lives, such as the consumption of goods from other developed regions," human rights activist and former commissioner of the National Commission on Human Rights (Komnts HAM) Natalius Pigai told DW.
He added that sometimes the expiration date of the food has passed when the products arrive.
The activist also blamed the ongoing transformation of society for having contributed to the problem. "District expansion has encouraged an agrarian society to turn into a consumer society," Pigai said.
"There has been an enormous expansion of the provinces and regencies; people are switching from the agricultural world to try something new, new lives, new jobs," he said.
He points to Yakuhimo in Papua in 2009 where there was a terrible famine and over 1,000 people died.
"Everyone who was curious about the expansion of the region tried their luck by going to the city, a journey that usually takes days. As a result, the farms were abandoned," he said.
Poor coordination
Pigai also criticized the poor coordination of health services. "The central, provincial and district governments often blame each other," he said.
The health ministry has said that under conditions of regional autonomy the primary responsibility to tackle the problem lies with local government.
"And the regency is placed under a tremendous burden; there are only two doctors and 10 paramedics," Pigai said.
"Good medical infrastructure is not available, nor good medical equipment and they have very limited drug supplies and a very tight budget," he added.
The slow handling of the disaster shows that the state is not present when humanitarian and health disasters occur. Since the outbreak of the disease, Pigai said, no relevant minister has visited the location and observed the situation faced on the ground by the affected people.
"The government is responsible for the health of its citizens. Why didn't they go to the affected area directly? It's an emergency situation," Pigai said.
President Jokowi has said he plans to visit the affected area. He has, in fact, been a far more frequent visitor to Papua than any of his predecessors, overseeing progress in infrastructure and project development.