Indian Prime Minister Narendra Modi has promised to send an Indian national into space by 2022 — when the country will celebrate the 75th anniversary of its independence from British colonial rule.
"India will send into space — a man or a woman — by 2022, before that if possible," Modi said, adding that the chosen astronaut would be "carrying the national flag."
The announcement was made on Wednesday, August 15, when Modi addressed the people of India from the ramparts of the historic Red Fort in the capital, New Delhi. He was delivering a speech marking India's Independence Day.
If successful, India would become the fourth nation to send a person into space, after Russia, the US and China. At present, only Russia and China have the capability to put a human in space. The US is expected to join them soon with the help of its commercial crew program.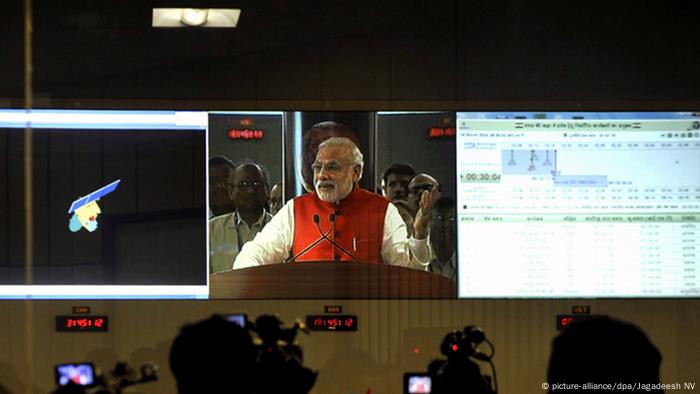 Indian PM Modi addresses the ISRO in September 2014
'Extremely challenging'
Modi's pledge sets an ambitious target date for the Indian Space Research Organization (ISRO) to send humans into space. But the agency's head appears optimistic about the deadline. "We can achieve the 2022 target that the prime minister has announced," Kailasavadivoo Sivan, the ISRO chairman, told DW.
"Everything will fall into place. We have a crew module, the crew escape system has been tested this year, and we have a launch vehicle. I do not think much more is needed as far as the technology is concerned," he added.
Read more: India launches mini-space shuttle
The Indian manned mission will likely involve sending crew members into low Earth orbit for five to seven days, using an indigenous Geosynchronous Satellite Launch Vehicle Mark III (GSLV-III). ISRO is expected to complete two unmanned missions before embarking on a manned space flight. ISRO estimates the mission will cost around 10,000 crore rupees ($1.42 billion, €1.25 billion).
"It's doable because India has already been testing various technologies way back since 2004," Ajey Lele, senior fellow at the Institute for Defense Studies and Analyses, a New Delhi-based think tank, told DW.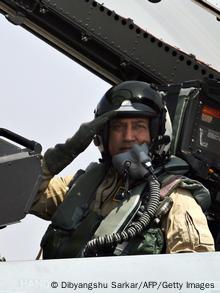 Rakesh Sharma beccame the first Indian to travel into space on a Russian mission in 1984
But David Alexander, director of the US-based Rice Space Institute, told DW that "this is a very challenging endeavor."
"While ISRO has been working on some key technologies, such as a launch abort system, a four-year timescale is extremely challenging without investing in a significant amount of resources," he added.
Dr R. Ramachandran, a science writer and former member of the prime minister's climate change council, has a similar view and is not optimistic with regard to the 2022 target.
Given the current state of India's space program, "I don't see any manned mission happening before ten years from now," he told DW.
Read more: India reaches for the stars with its heaviest-ever rocket
"ISRO has so far mastered some basic technologies that are necessary for a human space flight program. But even if they say they are all ready to fly, they would require at least four unmanned flights to test out the safety and effectiveness of all the systems onboard," he said.
He pointed to China's example, where the country flew four unmanned space flights before launching a manned one.
ISRO says the Indian air force will select the astronauts for the mission, and that the space agency will work with a Bengaluru-based institute to train the crew.
Robust program
India has invested heavily in its space program in the past decade. The South Asian nation's $1 billion-a-year space program has grabbed global attention in the past. In 2014, India made history by becoming the first Asian nation to reach Mars. In 2008, it successfully sent an unmanned spacecraft to orbit the moon. And in 2017, India launched a record 104 satellites in one blast-off.
The next major projects for ISRO are a second mission to the moon and a solar mission — the first from India to study the sun.
With the help of this mission, code-named Aditya-L1, ISRO is hoping to make a major scientific contribution to the study and observation of the sun's properties. India has been making decent progress when it comes to space, say observers like Ramachandran.
Read more: India aerospace: 'Nothing can stop us'
Most Indians are proud of their space program. But critics often question why India spends vast sums on space exploration. They contend that the money could be directed toward tackling problems like widespread poverty and malnutrition.
Supporters of the program, however, point out that there are many technological, educational and economic benefits from space research.
In India's case, the space program has helped the country develop satellite, communication and remote-sensing technologies. Furthermore, it has been used to gauge underground water levels and predict weather in the country, which is prone to cycles of drought and flood.
"ISRO's space program should not be looked in isolation, because India's growth has happened essentially because of the country's investment in technology," said Lele. "It will allow various innovations; it will allow various spinoff technologies to emerge. So over a period of time, this program will become cost-effective," the expert underlined.
Competition in space
New Delhi is also competing with other international players for a greater share of the satellite market. "A vibrant space program, if well-planned and integrated as part of the country's economic development, can provide a base for high-tech training and jobs," said Alexander.
Some observers regard space as one of the areas of competition between China and India.
China, too, has a robust space program and is steadily increasing its efforts in the realm of space exploration.
Beijing's ambitious program includes landing a rover on Mars by 2020, building its own space station by 2022 and sending an exploration mission to Jupiter by 2029.
Ramachandran believes the idea for an Indian manned space flight was, at least partly, influenced by China's space ambitions. "I think this push came from the government, to be on par with China in terms of achieving something in space," he said.
"Other than that, the human space flight program doesn't serve any scientific purpose at this point of time."
Additional reporting by Murali Krishnan from New Delhi