Heavily armed militants crossed the "line of control" with Pakistan before launching an early Sunday raid on the Indian army's 12th brigade infantry base housing hundreds of soldiers in Uri, west of the region's main city of Srinagar, the Indian military said.
Indian General Ranbir Singh said all four gunmen were "foreign terrorists" and that initial information suggested they were part of militants group Jaish-e-Mohammed, which is based in Pakistan. He added that the gunmen were carrying "some items that had Pakistani markings."
The assailants were killed, but there were more casualties on the Indian side. "We salute the sacrifice of 17 soldiers who were martyred in the operation," the army said in a statement. It said 25 troops were injured, some of them airlifted for medical treatment.
The garrison was hosting more troops than usual, as one battalion was in the process of handing over field duties to another one. As a result, a large number of soldiers were accommodated in tents and temporary shelters. Most of the victims of the Sunday raid died when their tents caught fire.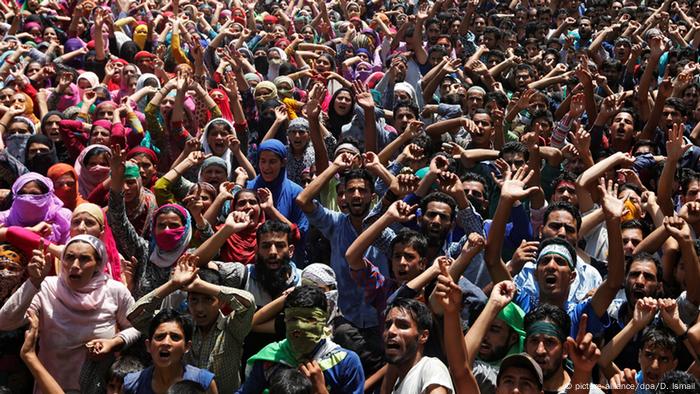 Kashmir has long been a flashpoint for conflict between India and neighboring Pakistan
India points finger at Pakistan
Indian Home Minister Rajnath Singh called an emergency meeting of top defense officials and blamed Pakistan for the attack.
"I am deeply disappointed with Pakistan's continued and direct support to terrorism and terrorist groups," he said.
The minister also canceled a diplomatic trip to Russia and the United States that was due to start on Monday.
"Pakistan is a terrorist state, and it should be identified and isolated as such," Singh said on Twitter.
Islamabad denied involvement in the attacks.
"India immediately puts blame on Pakistan without doing any investigation. We reject this," Pakistani Foreign Ministry spokesman Nafees Zakaria told the Reuters news agency.
Unrest to continue
Kashmir - which is claimed by both India and Pakistan and has a strong independence movement - has been in the grip of deadly unrest for more than two months, following the killing of a key rebel leader this summer.
Residents in the Muslim-majority territory have been living under more than 72 days of curfew and have clashed almost daily with security forces, in the worst violence since 2010. At least 87 civilians have been killed and thousands injured - many seriously - in the protests against Indian rule.
Separatist leaders have called on fresh marches against the curfew in three districts on Sunday which is expected to lead to inevitable clashes between rock-throwing protesters and Indian troops.
Tens of thousands of people - mostly civilians - have been killed in a decades-long insurgency against New Delhi's rule.
jar/dj/rc (AFP, PTI, AP)