India on Tuesday implemented a curfew across the restive Kashmir region, marring the Eid al-Adha Islamic holiday.
Muslim-majority Kashmir has been in the throes of the biggest street protests in six years, triggered when a top separatist leader was killed by security forces in July.
Normally hundreds of thousands of people would be out in the streets celebrating Islam's most important holiday, when families get together and sheep and goats are slaughtered.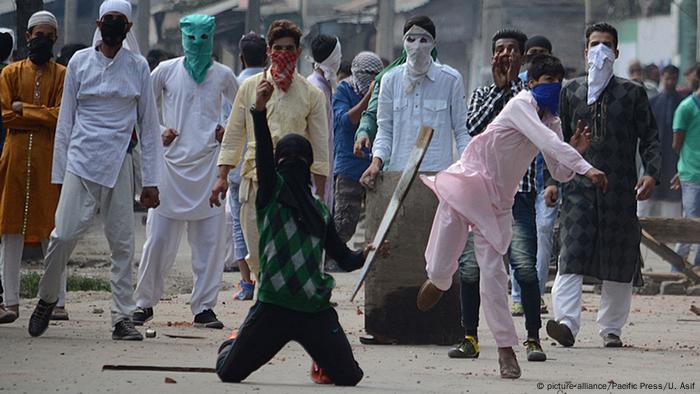 Some rock-throwing protesters braved the curfew
Instead, shops were shuttered and the streets in the region's cities, including the main city, Srinagar, were largely empty as people stayed home or in their neighborhoods.
Authorities prevented prayers at the main mosques and Eid grounds, although some people held prayers in small neighborhood mosques.
Mobile telephone services were also partially blocked and internet service shut down.
Clashes broke out as some protesters braved the security clampdown, leaving two people dead and several dozen injured.
Authorities in late August lifted a curfew imposed in most parts of Kashmir following a 52-day security lockdown, but schools, shops and many banks remain closed.
At least 79 civilians have been killed and thousands wounded during the latest round of protests.
Two policemen and hundreds of others have been injured in clashes.
Kashmir is divided between India and Pakistan, which have fought two wars over the region. India accuses Pakistan of arming rebels fighting for independence or union with Pakistan.
More than 50,000 people have been killed in the conflict.
cw/kl (AP, dpa, Reuters)