Monobina Gupta is the Managing Editor at thewire.in. DW spoke to her after the murder of the editor and publisher Gauri Lankesh. Her killing is just the latest in a string of violent attacks on journalist in India.
DW: After the recent murder of journalist Gauri Lankesh, what is the feeling among the journalism community following this killing?
Monobina Gupta: Such attacks have been going on for a while against citizens, journalists and activists. We have been witnessing a rise in hate crimes. This has been happening since 2014 when there was a change in government and Narendra Modi came into power.
Journalists are very angry and they do not want this murder to go unanswered and want to fight back.
Journalists fight back with the pen. Are journalists now even more motivated in continuing to do their job as the fourth estate?
Yes. I think we have not been as vigilant or hard-hitting as we should have been. By we, I am talking about the mainstream media. These very powerful organizations seem to have made a kind of agreement with this regime, and they are not speaking truth to power, which is what journalism is all about.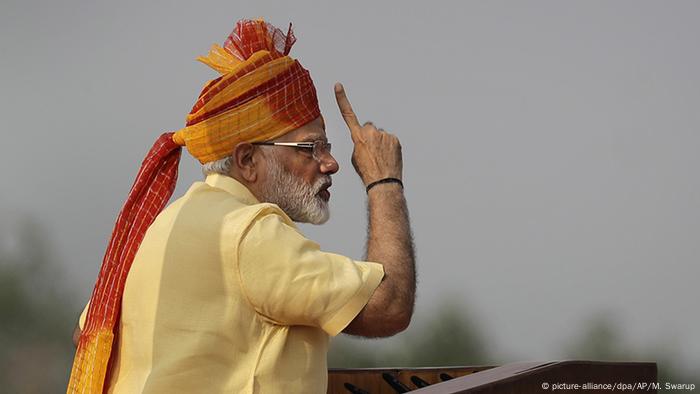 Activists and journalists say that their jobs have become more difficult since Prime Minister Modi assumed power in 2014
Fighting back with the pen means reviving the tradition of dissent and reclaiming lost ground, in which journalism should be seen as an institution which cannot be browbeaten by intimidation. The way you fight back is by writing your mind, or by speaking your mind, using whatever form of media at your disposal. Also perhaps intervening a bit more in politics, not just in terms of the ongoing protests, but also by joining with other civil society groups who are also trying to dissent.
Do you feel that this climate of intimidation that you say has taken hold since Modi took power is affecting how willing ordinary people are to speak up in the public sphere?
There is rampant vigilantism across the country. People are being killed just because they are a member of a minority. Muslims have been killed because of superstitions. There has been an atmosphere of anxiety in general, and I don't see society as a whole expressing the outrage it should be.
A colleague of mine explained that Indian nationalists – and Modi in particular - have a so-called army of trolls that are affecting the discourse on social media. Is this the case?
Absolutely. The social media atmosphere on Twitter, not Facebook so much, is vicious. It is full of lies, full of propaganda, and it is the Hindu right-wing trolls who have become the majority there. In the immediate aftermath of Gauri Lankesh's assassination, there were vicious tweets about her personal life, about her political credentials, that slandered her. They also used the killing to send out more threats to others who are dissenters. There were a lot of senior journalists who at one time spoke their minds on Twitter, but have now opted out because of the level of abuse. They and their families just could not take it any longer.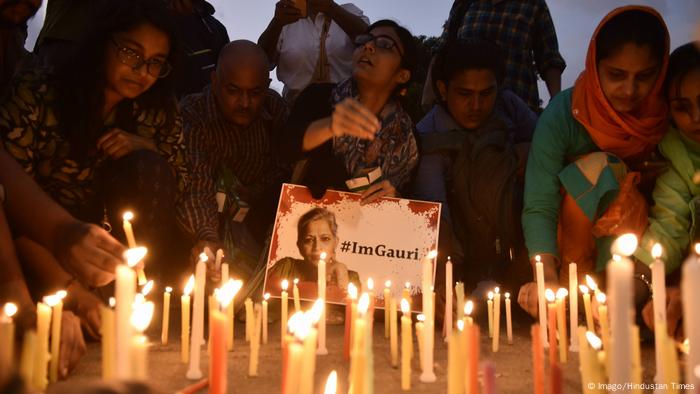 Journalists are fighting back against the trolls by continuing to do their jobs
The account of one of the main trolls is being followed by the prime minister, and there have been increasing calls for Modi to unfollow the troll. Rather than do that, the Hindu nationalist party, the Bharatiya Janata Party (BJP), has said that the PM is someone who defends freedom of speech. But the fact is he can unfollow him.
We cannot get away from the fact that you are a journalist who does this work every day in this environment in India. Do you feel that you yourself could be under threat just by speaking to me, someone outside of India, and by highlighting this situation? Are you at all reluctant to address these issues?
I am not reluctant. However, I have seen this reluctance among some of my friends who have retreated, so this shows that the intimidation is working. I do not feel myself hindered by any sort of fear, but of course we know that to be critiquing the ideas of a certain brand of nationalism could bring some virulent abuse. You can be labeled an anti-nationalist. It does not take much to get that label these days.
They want us to fall silent but as journalists, this is what we do.
Monobina Gupta is the managing editor at thewire.in.
This commentary is a part of DW's Freedom of Speech Project, which aims to highlight voices from around the world on the topics of freedom of expression and press freedom. You can also follow the project on Facebook. Interview by Ole Tangen Jr.