Anyone with even a remote fear of flying knows just how much an inflight announcement on turbulence can be alarming. For Shradha Sharma, the founder of YourStory, it was even more frightening because the warning was initially in German on a flight from Munich to Berlin. She was only able to feel less anxious when the flight attendants translated it into English, Sharma told a small crowd, speaking at the launch of the German Indian Startup Exchange Program (GINSEP) in Berlin.
Read more: Insights into Germany's startup scene
Sharma's experience when flying illustrates the difference that understanding a language can make — and this is even more significant when launching or operating a business in another market. "If I land in Berlin, or Munich or Hamburg, then I need to know the right partner who understands the market [and] can help me navigate through," Sharma told DW.
From Berlin to Bangalore and Delhi
The YourStory CEO believes it is much easier for startups to launch in other markets when there are organizations that can help facilitate the process. That is why she is part of the team that has worked on setting up GINSEP, which is initiated by the German Startups Association. The exchange program will be coordinated by Angela De Giacomo, a German of Italian origin who now splits her time between been India and Germany.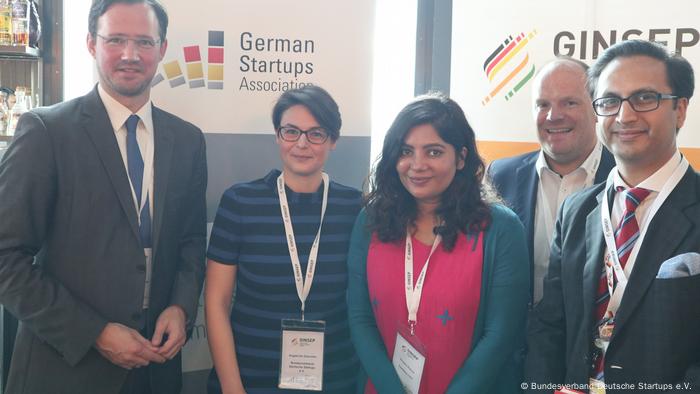 Angela di Giacomo (second from left) and Shradha Sharma at the launch of German Indian Startup Exchange Program
While de Giacomo, a former KPMG accountant, was managing the wealth of the Bissell family in India, she noticed a gap between investor interest and startups in the country. As a result, she has been working to build more bridges between India and Germany. In 2015, she founded Wundernova, a platform that helps link people in the German and Indian startup scenes.
Germany becomes more appealing
In recent years, Germany has become more attractive for Indian entrepreneurs, de Giacomo says. "Brexit has probably helped also to shift focus," she told DW.
While the UK has traditionally been the country of choice in the EU, Indian startups are looking to Europe's largest economy as Britain prepares to leave the bloc. However, Germany even has bigger competition outside Europe.
"I think the reason we don't see a lot of Indian startups in Germany is because all the Indian guys, they go to Silicon Valley," YourStory CEO Sharma says.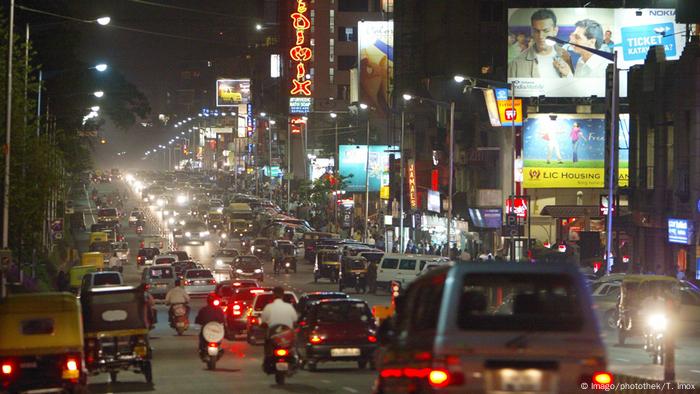 Bangalore is ranked among the world's top 20 cities for startups, according to the Savills Tech Cities report
One doesn't have to look very far to find the many Indian entrepreneurs who have long established themselves in Silicon Valley. As many as one in three of all immigrant-founded companies in the US have Indian founders, according to a report by the Kauffman Foundation.
But US President Trump's immigration reform is making the country less attractive for Indian talent. That means young Indians will be looking more at opportunities at home and elsewhere, such as Germany. With Brexit potentially making the UK less attractive in Europe, the launch of GINSEP could be timely.
Startups part of trade and development policy
An exchange program with India will also help German entrepreneurs learn more about the Indian market. Speaking of which: German startups can now apply for the 2018 German India Week, one of four startup excursions the German Startups Association currently offers.
Read more: Expanding to Asia holds big promise for German founders
About 8 in 10 of German startups are planning to expand their operations abroad, according to figures from the recently released German Startup Monitor 2017. This means that they are looking for opportunities to learn about other markets.