India has declined relief assistance from foreign governments for the flood-hit southern state of Kerala following offers of aid from several countries, including the United Arab Emirates and Qatar.
"The government of India deeply appreciates offers from several countries, including from foreign governments, to assist in relief and rehabilitation efforts after the tragic floods in Kerala," the Indian Foreign Ministry said in a statement. "In line with the existing policy, the government is committed to meeting the requirements for relief and rehabilitation through domestic efforts."
The decision has drawn sharp criticism from Kerala, hit by the worst flooding in a century.
Torrential rain that began in Kerala on August 8 killed 231 people and left behind a trail of destruction. Experts have estimated losses of at least 200 billion rupees (€2.5 billion, $2.85 billion).
Prime Minister Narendra Modi's government in New Delhi has pledged assistance of 6 billion rupees, far short of the 22 billion rupees the state requested.
The state's finance minister, Thomas Isaac, wrote on Twitter that the central government should compensate the state for refusing foreign aid.
He said the UAE government voluntarily offered money but the central government declined it, saying it's "below our dignity to accept foreign aid."
No foreign aid policy
Earlier this week, the United Arab Emirates offered $100 million in aid while Qatar offered $5 million. Many people from Kerala live and work in the Gulf region. Other countries, including Thailand and the Maldives, also offered to chip in.
Experts say the policy to refuse international funds, put in place following the Indian Ocean tsunami in 2004, is meant to show that India is capable of dealing with natural disasters.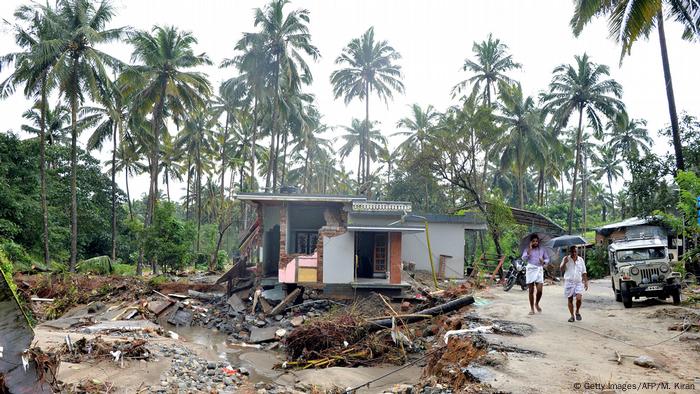 Torrential rain that began in Kerala on August 8 destroyed tens of thousands of homes.
"It would be ridiculous to expect the present government to suddenly reverse that policy and accept foreign aid," columnist Indrani Bagchi wrote in the Indian newspaper The Economic Times.
"Successive Indian governments have also discovered that once you open those gates, you end up with a lot of unnecessary diplomatic obligations, doubtful assistance and very little upside."
But the main opposition Congress party accused Modi of creating obstacles to foreign help.
"This decision is quite disappointing to the people of Kerala," Congress leader and former Kerala Chief Minister Oommen Chandy wrote in a public letter to Modi.
"Rules should be such [that they] eradicate the sufferings of the people. If there exists any obstacle against the acceptance of foreign aid, kindly look into the matter seriously and bring suitable modifications."
Kerala Chief Minister Pinarayi Vijayan said he would approach Modi to clear the hurdles in receiving the aid being offered by the UAE, Indian broadcaster NDTV reported.
The Foreign Ministry said foundations, Indians living abroad and people of Indian origin were welcome to make contributions to the Prime Minister's Relief Fund and the Chief Minister's Relief Fund.
Each evening at 1830 UTC, DW's editors send out a selection of the day's hard news and quality feature journalism. You can sign up to receive it directly here.