Annually, organizers present awards in three different categories: fiction, nonfiction and translation. The Hamburg-born poet Jan Wagner (pictured) made Leipzig Book Fair history on Thursday, by winning the 15,000-euro ($16,000) award for the fiction category with his lyrical work "Regentonnenvariationen" (Rain Barrell Variations).
In announcing the award to Wagner on Thursday, the literary critic Meike Fessmann called Wagner's work "clear, specific and of a restrained intelligence," adding that the language carried a "narrative momentum." Fessmann said that Wagner's winning the award should work "like a thunderbolt" for the poetry genre, often underrated in Germany and contemporary publishing in general.
The other nominees in the fiction category were Ursula Ackrill, Teresa Präauer, Norbert Scheuer and Michael Wildenhain.
History of neoliberalism
Philipp Ther won the nonfiction category with his book "Die neue Ordnung auf dem alten Kontinent." The book is set for publication in English as "The New Order on the Old Continent: A History of Neoliberal Europe."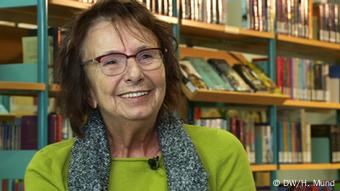 Pressler translated Amos Oz's "Judas" from the Hebrew.
In the translation category, Mirjam Pressler won for her adaptation from Hebrew to German of Amos Oz's current novel, "Judas." The win fits well with this year's special section for Israeli writers at the book fair, with 12 - including Meir Shalev, Chaim Noll and Oz himself - set to attend.
Previously, the Leipzig Book Fair had awarded the Romanian author Mircea Cartarescu in the category of European Understanding. In addition to the nominees, the big-name Israeli writers and the winners Pressler, Ther and Wagner, organizers expect German celebrities to attend, including Social Democrat politician and former chancellor candidate Peer Steinbrück and the pop veteran Heino.
Concurrent with the Leipzig Book Fair, northwest Germany is hosting lit.Cologne.
mkg/msh (dpa, KNA, epd)