On Wednesday, March 15, lit.Cologne will be opened by the German actor and musician Herbert Grönemeyer. Together with the poet Michael Lentz, he reflects on his songs - in particular dealing with writing lyrics, rhyming and writer's blocks.
In the 11 days to come, many German and international celebrities from the literature scene will present themselves in Cologne. Amongst others there will be the French writer Michel Houellebecq, who drew much attention earlier this year with the publishing of his latest novel "Submission". The Danish writer of crime-thrillers, Jussi Adler Olsen ("The Boundless") has also been announced to appear, as well as US-author T.C. Boyle ("Drop City") and the Swiss writer Martin Suter ("Small World"). One hundred thousand spectators are expected to visit until the event closes on March 21, attending more than 200 readings and other performances.
Leipzig reads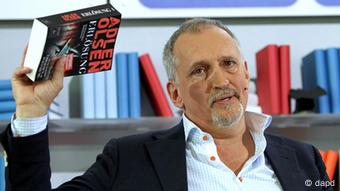 The successful Danish writer will appear both in Cologne and Leipzig
In Leipzig the book fair starts on Thursday (March 12), coinciding with a separate festival of reading. As the most important literature event of the season, writers and publishers meet to network and do deals, while visitors can get the latest updates on trends within the book market. This year the fair makes special note of the "50 years of German-Israeli relations". Many events will bring together Israeli and German writers.
Parallel to the fair, the "Leipzig Reads" festival will be held over four days. During that time around 3,000 participants are expected to perform at more than 400 locations across the city, including schools, cafés, libraries, bookstores and theatres.
Many of the luminaries from the lit.Cologne will also visit Leipzig and, besides the usual authors and writers, there will also be stars from various artistic fields, including rappers, YouTube-stars and even ex-porn actress Dolly Buster.
sw, ej / jt (dpa/lit.cologne)