For decades, Germany has had a hard time persuading international moviemakers to shoot their films in the country.Even after the nation was reunited in 1989, Hollywood directors were slow to develop projects in Berlin, Munich or, for that matter, at the famous Babelsberg Film studios in Potsdam, outside Berlin.

But times, it seems, have changed, and suddenly Germany -- and Berlin in particular -- is a moving-making magnet.
Tom's controversial role
From Brangelina to Tom Cruise and Matt Damon to Nicole Kidman, Berlin locations have been pulling in Hollywood stars more and more regularly.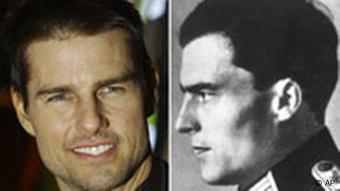 Cruise plays Claus Schenk von Stauffenberg
Cruise has been staying in the city with his wife, Katie Holmes, and daughter Suri during the shooting of the war movie "Valkyrie" at locations in Berlin and Brandenburg, the eastern state that surrounds the capital city.
The actor has stirred controversy, not only because of his famed devotion to Scientology, but also his role in the movie about a key figure in the German resistance against Adolf Hitler.

Cruise plays Colonel Count Claus Schenk von Stauffenberg in the film, about Stauffenberg's failed bomb-plot bid to kill Hitler on July 20, 1944. The plot led to the colonel's arrest and execution by firing squad in the courtyard of the Bendlerblock, the current German army's headquarters in Berlin.
Besides Cruise, who has been tracked by paparazzi since his arrival in the capital, the actors Kenneth Branagh, Bill Nighy, Tom Wilkinson, Eddie Izzard, Cristian Berkel, Thomas Kretschmann and Carice van Houten belong to the cast.

'Amazing' period of growth
"Our studios are presently at full capacity," Eike Wolf, a spokesperson at Babelsberg, said of the Berlin film boom. "It's amazing. It's the busiest period we've experienced since the studios were privatized in 1992."

Wolf said by the end of the year Babelsberg will have handled a "record" 11 productions.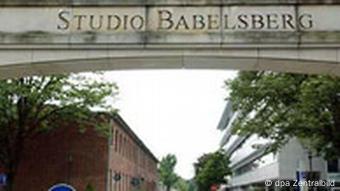 Babelsberg says its undergoing a renaissance
"Last year we had just one full length feature," she said.
Carl Woebcken, managing director of Studio Babelsberg Motion Pictures, said that despite doubling the studio capacity in 2005, they have had to rent extra studio space in order to cope with the demand from international productions.

While the current rush of business is more than welcome, the number of films produced there in Babelsberg in the past few years is a far cry from the studio's heyday in the late 1920s, when it was Hollywood's strongest competitor. Back then, the studio pumped out almost 600 films a year, including classics such as Fritz Lang's "Metropolis" (1927), and the 1930 Josef von Sternberg feature "Blue Angel," which gave Marlene Dietrich her debut.
Projects in the pipeline

Besides "Valkyrie", other films in progress at Babelsberg this year include director Tom Tykwer's "The International," starring Clive Owen and Naomi Watts; Jan de Bont's thriller "Stopping Point," with actor John Cusack; "Mr.Nobody," starring Jared Leto; and "Speed Racer," a $53 million Warner Brothers production.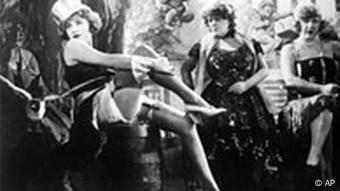 Marlene Dietrich got her start in German film's heyday
In the pipeline for Babelsberg are "The Reader", starring Tom Cruise's ex-wife Nicole Kidman, and Oscar prize-winning director Caroline Link's "A Year of Winter" with Corinna Harfouch and Karoline Herfurth.

Another Berlin project is German producer Bernd Eichinger's "The Baader-Meinhof Complex", starring German actor Moritz Bleibtreu as modern radical Andreas Baader.
The movie tackles an explosive period in Germany's post-war history when a group of urban terrorists known as the Baader-Meinhof Gang, or Red Army Faction, staged a series of murders, robberies and kidnappings during the 1970s and early 80s.