Icelandic voters headed to the polls on Saturday, with voter surveys showing the opposition, led by the Pirate Party, could topple the current center-right ruling coalition.
Icelanders' faith in their political and financial establishment was shaken after the 2008 financial crisis and further eroded this year when several senior government figures implicated in global tax evasion were outed by the release of the so-called Panama Papers.
The biggest protests in the country's history ultimately led to the resignation of Prime Minister Sigmundur David Gunnlaugsson of the Progressive Party and this weekend's early election. Eva Heida Onnudottir, a political scientist at the University of Iceland, said the political fallout of the financial calamity of 2008 is still being felt. "People in Iceland felt that their world had kind of broken down," she said. "The perception was that the system wasn't working as people thought it was working."
The Pirate Party, founded in 2012 by activists, anarchists and hackers, campaigns for public transparency, institutional reform, individual freedoms, and the fight against corruption. Pirate Party spokeswoman Birgitta Jonsdottir says the party has "studied the mistakes of Syriza and Podemos", leftist parties in Greece and Spain that tapped into anger about austerity cuts imposed during the eurozone debt crisis.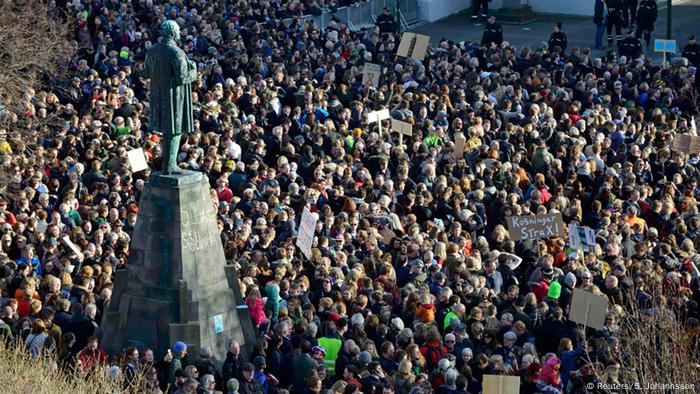 Saturday's election was triggered when Prime Minister Gunnlaugsson resigned amid popular protests in April
And if the party does well, it could form the nation's second center-left government since the country's 1944 independence from Denmark. Iceland has largely returned to prosperity since its 2008 financial meltdown with GDP growth expected to be above 4 percent this year due to tourism and the recovery of its financial system.
Unprecedented protests rocked Iceland's political elite
The crisis saw Iceland's three biggest banks and its oversized financial sector collapse. A string of bankers were jailed, the failed banks were temporarily nationalized and then sold, and foreign investors had to accept write-downs on their debt holdings.
Recent polls show the Independence and Progressive parties stand to lose their current majority in the Althing, often described as the world's oldest parliament, which means they would have to find a third coalition partner to stay in power.
An October 27 poll conducted by Visir and Stod 2 showed 37 percent support for the government parties, while the four opposition parties polled around 47 percent combined. Turnout in Iceland is normally high at about 80 percent, but as in most countries, young voters are less likely to cast their ballots, which could affect returns in support for the Pirate Party.
Polls opened at 9 a.m. (0900 UTC) with about 245,000 eligible voters. Polls close at 10 p.m. (2200 UTC) with partial results due early Sunday.
jar/jlw (AFP, Reuters, AP)