The South Koreans, who are playing in the IIHF Ice Hockey World Championship for the first time, after earning promotion by finishing runners-up at last year's Division 1 Group A tournament, posed little trouble for Germany, who had lost their first three games, to Denmark, Norway and the United States.
Wednesday's match finished 6-1 in favor of the Germans, keeping their faint hopes alive of reaching the quarterfinals of the tournament for a third year running.
The Korean team, backstopped by South Korean-Canadian goaltender Matt Dalton, did manage to keep the Germans off the scoreboard for the first half of the first period, but this changed at the 10:02 mark.
Germany's young superstar, Leon Draisaitl of the Edmonton Oilers, opened the scoring on the powerplay, just seconds after Korean captain Woosang Park was given a two-minute minor penalty for cross-checking.
The Germans went up by two 41 seconds into the second period, with Yasin Ehliz also scoring on the powerplay. This was followed up with an equal-strength goal by Patrick Hager halfway through the period, while Frederick Tiffels made it 4-0 with just over five minutes left in the middle frame.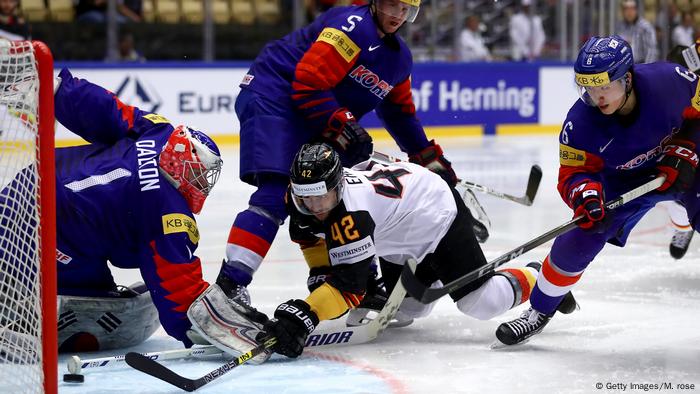 The Germans peppered the South Korean goalie, Matt Dalton, with 42 shots
With the outcome of the contest beyond doubt at the start of the third, Germany continued to dominate, adding a second goal by Ehliz and one by Yannic Seidenberg to pad their lead to 6-0 just after the halfway point of the period.
Shutout denied
By then, the only thing left to play for was the shutout for goaltender Niklas Treutle, who had performed so admirably in a losing cause against the much stronger Americans on Monday. However, it wasn't to be, as with just under three minutes left, Brock Radunske gobbled up the puck from a scramble in the German zone that ensued after a faceoff that wasn't cleanly won by either side. Radunske, another Canadian import, wacked it between Treutle's pads and into the net for the South Koreans' only marker - their second of the tournament.
Kühnhackl declines invitation
A couple of hours before the opening faceoff, German coach Marco Sturm received some disappointing news. He had left one roster spot open, hoping to add a player eliminated from the National Hockey League playoffs. That player, Tom Kühnhackl, notified the coach that he would not join the national team in Denmark, as he was not fully fit and out of contract after his Pittsburgh Penguins were eliminated from the Stanley Cup playoffs by the Washington Capitals on Tuesday night.
With Wednesday night's win, Germany moved up to fifth place in Group B, even on points with Latvia, who have a game in hand. That's the team Germany face in their next game, on Saturday.