Hungarian President Janos Ader (pictured above) won 131 votes from MPs in the second round of voting to secure a further term. The long-time member of the ruling Fidesz party has been a strong ally of Prime Minister Viktor Orban since first being elected to the largely ceremonial post in 2012.
In the first round, however, Ader fell two votes short against former ombudsman Laszlo Majtenyi from the Socialists, the largest opposition party.
"In little over a year you will all face a test. The noise of political debates will amplify over the coming months," Ader told parliament before the vote, referring to next year's parliamentary elections.
The large majority of Orban's Fidesz party in parliament meant the second round was a foregone conclusion, when a simple majority is required.
Majtenyi received 44 votes, while 24 lawmakers from the far-right Jobbik party abstained.
The left unsually united
Majtenyi managed to cobble together support from the often bickering parties of the left, all of whose 43 members of parliament (MPs) in the 199-seat house said they would vote for him.
"It's significant because for once they support a single candidate even though they don't like each other," analyst Csaba Toth told the French news agency AFP.
The parliamentary vote for the presidential role is a formality given that Orban's ruling rightwing Fidesz party, in power since 2010, holds close to a two-thirds majority.
"A moral decision"
Majtenyi told the British newspaper "The Guardian" on Monday that his candidacy for the mainly ceremonial post was "a moral decision" driven by the need to keep democratic values alive in a climate of growing authoritarianism.
The 66-year old said democratic forces had been affected by Britain's impending departure from the EU, which he said had bolstered authoritarian leaders such as Orban, adding that it was no longer possible to call Hungary a constitutional state under the changes introduced by Orban's government.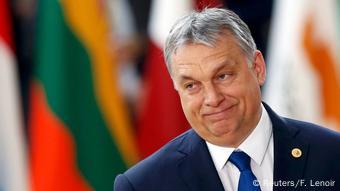 Hungarian Prime Minister Viktor Orban
"It is not a dictatorship but an authoritarian system," he said. "In Hungary there is no state terror. Only a verbal one. There are no democrats in prison. This is the difference between a dictatorship and an authoritarian system."
The EU had no tools to protect Hungarian democracy, Majtenyi said, but he insisted it was essential for Hungary to stay inside the union in order for things to improve.
A harbinger?
A key question now is whether this unity on the left will lead them to support Lajos Botka, mayor of Hungary's third-biggest city Szeged, who was put forward in December by the Socialists for the 2018 general election.
Botka has accused strongman Orban of governing like a "king" and said the time has come for "new left-wing policies."
A recent poll put Botka almost neck-and-neck with Orban in personal popularity, but his Socialist party is much less popular. Botka said he will run only if the fragmented left bloc, comprising seven parties, stands behind him.
If Botka drops out, Gabor Vona, the young leader of the radical-right Jobbik party, an ultra-nationalist party, which came second behind Fidesz in 2014 with 20 percent of the vote, is seen as the likely benefactor.
jbh/rt (AFP)