Police said on Sunday that hundreds of neo-Nazi sympathizers had gathered in the German town of Themar the previous evening for a right-wing concert for the second time in two weeks.
The concert on Saturday drew significantly fewer far-right supporters than the one that took place earlier this month under the banner "rock against foreign domination," according to figures provided by police.
Roughly 1,000 people attended the event compared to 6,000 earlier this month.
Read more: Neo-Nazi concert raises free speech concerns
Authorities said 36 criminal offenses were reported during the event, including 21 concerning the display of "unconstitutional" symbols. In the wake of World War II, Germany banned the display of Nazi symbols such as the swastika.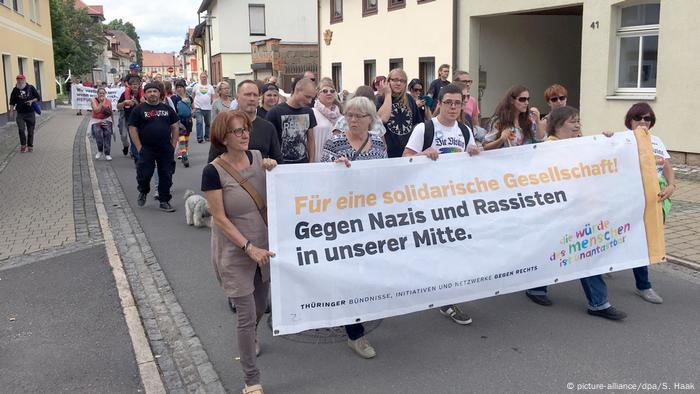 Hundreds of residents rallied against the neo-Nazi supporters for a "caring society"
'Racism kills'
Approximately 450 people took part in a protest against the event on Saturday, chanting anti-fascist slogans such as "racism kills."
The state of Thuringia's Interior Ministry said six people had been arrested during the concert earlier this month.
Read more: Germany: Far-right violence and Islamist threat on the rise
Henning Flag, who leads the Federal Working Group for the Church and Right-Wing Radicalism, told DW earlier this month that the German state of Thuringia has been a "hot spot" for music linked to the neo-Nazi scene.
"It always had particularly active, ambitious structures of people who organized concerts like this," Flad told DW. "It has always been an infrastructural point of connection."
ls/tj (dpa, AFP)