Four shipwrecks in the Mediterranean Sea have left some 340 people dead or missing in the past two-and-a-half days in what is the worst year on record for migrant deaths at sea, the International Organization for Migration (IOM) said on Thursday.
Flavio Di Giacomo, the IOM spokesman for Italy, said the incidents had brought to more than 4,500 the number of migrants who have died or disappeared so far this year while attempting the perilous sea voyage to Europe.
Di Giacomo said the figure of 340 included the 100 people reported missing feared drowned by the group Doctors Without Borders (MSF) after a dinghy carrying migrants capsized off the coast of Libya on Wednesday.
Twenty-seven people survived the boat's sinking. Rescuers recovered seven bodies.
The Italian Interior Ministry said more than 167,000 people have been brought to safety in Italy since the start of the year - already surpassing the 153,000 who reached Italy over the Mediterranean in 2015 and approaching the 170,000 figure of 2014.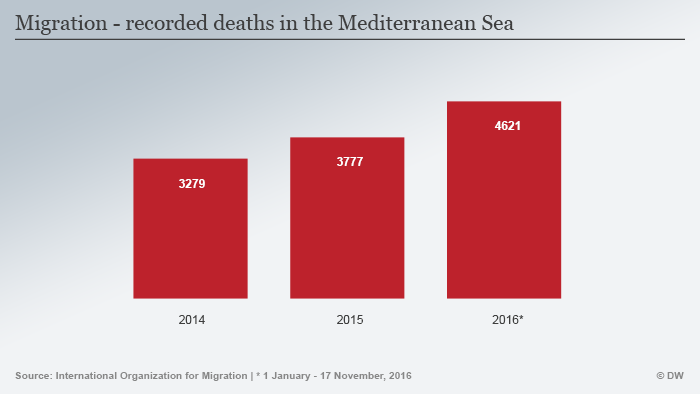 Many people seeking shelter in Europe from conflict or poverty in their home countries have been attempting to reach Italy from Libya after a closure in effect to migrants of other land routes and over the Mediterranean. The departures from Libya are continuing despite roughening seas as winter approaches, making an already risky journey even more dangerous.
tj/sms (AFP, AP)