Weekend winners
Robert Lewandowski, Arjen Robben, Alexander Meier, and Salomon Kalou all bagged two goals in their matches this weekend. Lewandowski and Robben did all the heavy lifting in Bayern Munich's 4-0 win against Hannover, while Kalou made the difference for Hertha Berlin in their 3-2 win over Stuttgart.
Meier headed in both of his goals in Frankfurt's 3-2 win against Cologne, although Haris Seferovic deserves a mention for his perfect deliver on both occasions.
Tip of the hat to SC Paderborn, who refused to back down – even when they were playing with ten men – against Champions League contenders Bayer Leverkusen. As one of the Bundesliga's promoted teams, relegation is the expectation, but the way Paderborn have been playing so far this season suggests they are keen to make themselves comfortable in the Bundesliga.
The 2-2 draw against Leverkusen was not only a key point from a tough away match, but a confidence builder for Andre Breitenreiter's men. They are currently soaking up the attention of being a mid-table surprise. While things might get a little bit trickier as the season progresses, they deserve to enjoy each week as it comes.
Rounding off our list of weekend winners, and they are probably the greatest winners of all this weekend, is Hamburg. Joe Zinnbauer's side celebrated their first win of the season on a visit to Dortmund. One win won't come close to solving all of their problems, but why let that ruin their weekend?
Is it Monday yet?
Jürgen Klopp, on the other hand, can officially consider his parade rained upon. Dortmund's rollercoaster form continues, and despite home advantage against Hamburg (an inferior team on paper), Klopp's men could not replicate the strong form they showed against Anderlecht midweek in the Champions League.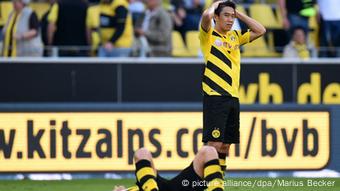 Not the way Kagawa wanted his weekend to go
Over Klopp's coffee and newspaper on Sunday morning, there'll be no avoiding the fact that the points deficit in the table between Dortmund and Bayern Munich has grown to double digits and now stands at ten.
But at least Klopp can enjoy the distraction of the Champions League, a luxury Robin Dutt can only dream of. His Werder Bremen side drew 1-1 with Freiburg on Saturday. Not only did the draw leave both teams as the only winless squads in the Bundesliga, but it dropped Dutt and his team to dead last in the table.
Finally, Bernd Leno will be more than happy to put this weekend behind him after a lapse of goalkeeping judgment may have cost Bayer Leverkusen the three points against Paderborn.
Twenty minutes in, Paderborn's Süleyman Koc was making a solo run down the right wing. Leno ran out of the goal to challenge Koc, but the keeper missed the ball in his attempted clearance, leaving Koc to score Paderborn's first goal of the game.
A simple mistake, but a costly one that can really ruin your day if you're Bernd Leno.
Catch some Bundesliga action this weekend? Who did you think had a weekend to remember, or a weekend to forget? Leave a comment below.