On the right-hand-side a bearded man wearing a turban outstretches his right hand, a dagger in his grip; in his left hand he's holding Bettina Wulff, the wife of Germany's former president. This photomontage will appear one week from Friday in the October edition of the German satirical magazine "Titanic". Its title, "The West in turmoil. Bettina Wulff shoots film about Muhammad!"
That the completely fictional satire, which makes use of two much-discussed topics in German media, could further provoke protests and riots in Muslim countries is difficult to believe, according to "Titanic" editor Leo Fischer.
"On the contrary, I believe this issue is more than likely going to ease tensions in the Arab world," Fischer says with a tone of irony he maintains throughout most of the interview. "I have read the Koran several times. The Koran does not prohibit making fun of Bettina Wulff."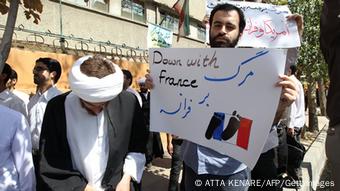 Protesters across the Muslim world criticize the French magazine
"Mrs. Wulff is well known for pulling out all stops at present to sell her latest book," he said, referring to a topic that has made the rounds of German newspapers and television talk shows. "We fear that Bettina Wulff is now going to jump on the Islamophobe bandwagon and produce a cheap, poorly made anti-Islam film."
Taking a slightly more serious tone, Fischer said he is unsure if the Prophet Muhammad is pictured in the "Titanic" photo collage. Cartoons depicting Muhammad sparked protests in several Muslim countries after they were first published in the French satirical magazine "Charlie Hebdo."
Parisconcerned over further clashes
Fischer defended the cartoons' publication in an article for the daily "Berliner Zeitung," saying it was the right response to the "crazy riots" that took place at least in part because of an anti-Muslim film produced in the United States titled "Innocence of Muslims." As a result of the cartoons being printed in France, thousands of people attacked the French embassy in Tehran. Police kept the rioters from entering the diplomatic mission, according to the Fars news agency.
The French government has said it is concerned protests in response to the cartoons will escalate in other countries after Friday prayers. As a precautionary measure, the foreign minister ordered the temporary closure of embassies, consulates, schools and cultural centers in 20 different countries. The German Foreign Ministry has heightened security at its embassies in the countries concerned, German Foreign Minister Guido Westerwelle said at a press conference in Berlin.
Asked about the upcoming issue of "Titanic", Westerwelle warned against additional provocations that could give fuel to radical Muslims' protests.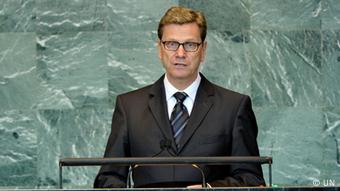 Westerwelle warned provocations could give fuel to radical Muslims
"Freedom of expression is not the freedom to offend or denigrate other faiths," Westerwelle said, adding that with freedom comes responsibility.
Potential for violent escalation
The president of the Federal Office for the Protection of the German Constitution, Hans-Georg Maassen, said he was concerned about the development. Although there has not been a "concrete danger" within Germany, the potential for violent escalation does exist, he said.
"What would happen if the film were to be shown here, if Muhammad caricatures were to be shown in German newspapers? It is possible that acts of violence could take place in Germany or German interests abroad," Massen told DW.
For "Titanic" editor Fischer that is no reason to back down, even if its cover might be misunderstood or used by certain groups to stir anti-Western sentiment.
"There are certainly political ringleaders that would do something like that," Fischer said. "But that cannot be prevented by stopping all of these kinds of publications. Self-censorship does not accomplish anything. Even if we wanted it to, it wouldn't help. These people will always find some reason to protest," he said.
In comparison to his French counterpart, "Charlie Hebdo" editor in chief Gerard Biard, Fischer remained apolitical. Biard, in an interview with DW, defended the cartoons with the political and atheistic orientation in his magazine.
"We fight every religion as soon as it leaves the private sphere and starts to influence politics and the public," Biard said of his magazine.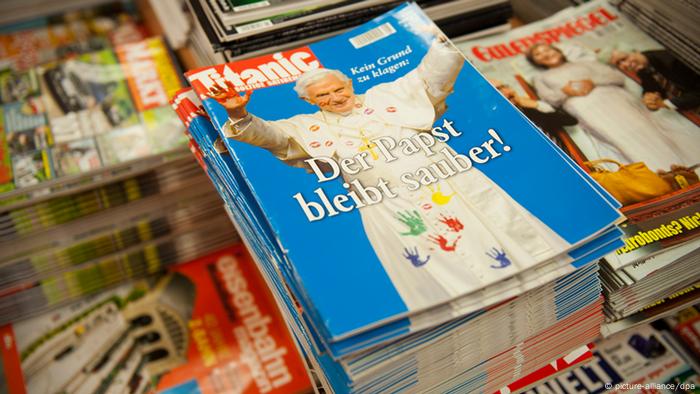 A controversial pope edition in July increased the magazines circulation by 70 percent
Boosting sales
With the "Titanic" there is also the suspicion that it's jumping on a current trend to boost sales.
"If that happens, we will have heavy hearts," said Fischer.
Religious themes on the front cover have paid off for Titanic this year. A controversial pope edition in July increased the magazines circulation by 70 percent. The magazine put the pope on the cover with yellow and brown stains on his robes under a headline reading, "The leak has been found."
While "Titanic" editors said the headline referred to documents leaked to the media, many Catholics were offended by the title and even the pope took the magazine to court.