The "take a knee" debate currently raging in the US began last year when Colin Kaepernick, then-quarterback for the San Francisco 49ers in the National Football League (NFL), decided not to stand during the playing of the US national anthem at games to protest police violence against African-Americans.
When US President Donald Trump recently decided to insert himself into the debate over such a charged issue, the results were explosive. The simmering controversy over Kaepernick and several other NFL players protesting the issue on a public stage turned into a national altercation.
"Ironically, what President Trump did is he expanded the participation of black athletes in the movement because he said something so outrageous," said Theresa Runstedtler, a scholar of African-American history with a focus on black culture and sports at American University.
Celeb athletes, civil rights icons show solidarity
The "outrageous" statement Runstedtler was referring to was President Trump's remark at a Republican rally in Alabama when he said that "wouldn't you love to see one of these NFL owners, when somebody disrespects our flag, to say, 'Get that son of a bitch off the field right now. Out! He's fired. He's fired!'"
Trump then went on to assure the audience that this behavior would stop and suggested people should leave the arena when players "take a knee." The president's attempt to stifle attempts at peaceful protest did not sit well with many players, owners, celebrities and the general public. The remarks prompted a dramatic rise in NFL players across the country "taking a knee" during the anthem and many team owners joining them. It also triggered a wave of solidarity that included NBA legend Bill Russell and civil rights icon John Lewis posting pictures of themselves "taking a knee" on Twitter.
On Tuesday, Trump doubled down on his position in a tweet, declaring: "The NFL has all sorts of rules and regulations. The only way out for them is to set a rule that you can't kneel during our National Anthem!"
Divided country
Trump's latest comments have done nothing to bridge the already deep divisions in the country. According to a new survey, Americans are divided along racial and political lines over NFL players kneeling during the national anthem and over President Trump's handling of the issue. An NBC poll found participants disapproving of the NFL national anthem protests by a margin of 52-38 percent, yet also disapproving of the president's comments by a margin of 48-38 percent.
"It tells us that we have an incredibly divided country and that a large number of whites completely identify with Donald Trump making the most divisive and provocative statements toward racial minorities, in this case African-Americans," said Mark Naison, a professor of history and African-American Studies at Fordham University and a former political activist.
Distraction from other debacles
With regard to Trump's possible motivation in inserting himself into the debate, both Naison and Runstedtler argue that rallying his base in light of the health care debacle and criticism over his handling of the crisis in Puerto Rico could have played a role.
"How do you rally your constituency when you just had this enormous failure?" asked Naison. "One of the ways to do it is by appealing to racial resentment, which is what got him elected in the first place."
African-American history scholar Runstedtler adds that Trump "knew he could touch a nerve with his conservative base, which watches football and probably doesn't agree when Colin Kaepernick and other black athletes stand against police brutality and structural racism in the United States."
New phenomena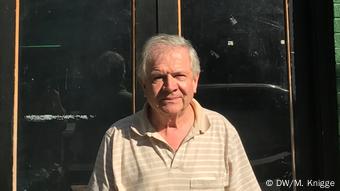 Sports fan Jack Milne says he prefers baseball anyway, as the NFL teams move around too much
At Blaguard, a neighborhood sports bar in northwest Washington, D.C., Jack Milne, a 70-year-old retired IT professional said he tried to tune out the whole NFL controversy. However, Milne said, he was not offended by players kneeling during the anthem, because, "people have always protested stuff" and "there was a time, a long time ago, when presidents only spoke about political things."
Alex Makrs, 30, works at Blaguard and has season tickets for the local NFL franchise, the Washington Redskins. He had a more pronounced opinion on the controversy: "It wasn't an issue until Trump made it an issue." Makrs was in attendance last weekend when the entire Redskins team locked arms and several players kneeled during the national anthem. He was not offended by the athletes' silent protest, he said.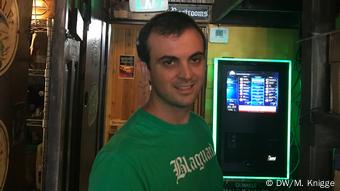 NFL fan Alex Makrs finds Trump's interference more problematic than the protests
"I was more offended by the people booing in the stadium. I think most of them don't even know why they are booing," he said, adding that the protest was not about the flag, but about racial problems.
Makrs also pointed out that the widely held notion that NFL players traditionally stood during the playing of the national anthem was a misconception since the practice was a relatively new phenomenon.
Paid patriotism
Indeed, it was only in 2009 that NFL players began standing for the anthem. Previously, players remained in the locker room until the game started.
Many critics have charged that these contrived shows of patriotism don't belong in the professional sports arena. Despite the NFL's popular image, its patriotic displays are very calculated. Two years ago, Republican Senators John McCain and Jeff Flake published a scathing 150-page oversight report called "Tackling Paid Patriotism" which detailed how the NFL and other professional sports leagues in the US received millions of dollars from the Pentagon to honor military service members at games through things like aircraft flyovers. In response, the NFL said last year that it would return the taxpayer money it had received.
Finally, the "take a knee" controversy has highlighted another misconception about sports, said the scholars Runstedtler and Naison, namely that sports and politics should be separated.
"Sports reflects the society in which they happen," said Runstedtler. "Sports are already laden with racial politics and they already were even before Donald Trump made those statements. The playing of the anthem at a sporting event is already a political act."
Sports reflects society
"Sports mirrors social and economic divisions in this society and creates a spectacle which encourages us to forget that," said Naison.
The players, added Runstedtler, did not create the divisions in society that are now becoming apparent. As an example, she referred to the fact that almost all NFL team owners are white, while the majority of NFL players are African-American.
"Just because they are athletes doesn't mean that they check their civil rights at the door," she said.