You have to go really far back in history to find a moment where the political climate between Moscow and the West was as icy as it was in March 2014. The annexation of Crimea a year ago caught politicians in Berlin, Paris, Rome, and Washington completely off guard.
In less than three weeks, Russia occupied and annexed the Ukrainian peninsula, and foreign affairs politicians in western capitals were forced to face a situation that presumably never appeared in any of the numerous strategy papers in the ministries and think tanks. Russia had inflicted violence on a neighbor, violated basic international accords and conventions, and seemed to be in a position to determine the future course of the conflict almost single-handedly.
Key role for Germany
As a result of its traditional partnership with Russia, Germany soon had a key role as mediator in the conflict. Its status as the most populous European Union nation made it the capital that was to bundle the various different interests in Europe - from Poland, deeply distrustful of Moscow for historical reasons, to Hungary with its conservative government that flirted with Russian President Vladimir Putin's authoritarian notions.
Putin is on his own against Merkel and the rest of Europe
The German government promptly defined three cornerstones of its foreign policy: no violence, but diplomacy, and economic pressure, and was able to win the support of its European partners for this strategy.
At the same time, Berlin has been careful to only embark on mediation initiatives alongside its traditional partner France, and to keep other European countries in the loop. "We surprised Putin," says Roderich Kiesewetter, foreign policy expert for Angela Merkel's Christian Democrats. "He didn't think the West would stick together so long."
Up until the Ukraine crisis, Germany's relations with Putin's Russia were based on how much criticism of the human rights situation it could afford without endangering its good economic ties with the country. Or, to put it another way, how closely can Europe cooperate economically with Russia without discrediting its values? Suddenly, though, the main thing isn't values and the economy. "Our foreign policy was always based around cooperation," says Franz Thönnes, director of the Social Democrats' Russia/CIS discussion forum. "Suddenly the question of security is back higher up the agenda."
The center-left Social Democrats perhaps have more cause to feel aggrieved than anyone. It was the SPD that was known in the 1970s for its "change through rapprochement" new eastern policy under Chancellor Willy Brandt. Conservative politicians, meanwhile, were more likely to suggest a "values-based" foreign policy that kept a distance from undemocratic states - a formula it had to defend against criticism from business interests in its own ranks as much as from political opponents.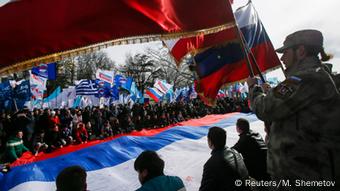 Crimea has now been under Russian control for a year
More significance for Berlin
But anyone who might have expected Russia's aggression in Ukraine to lead to a clash between these two positions was proved wrong. The attitudes of Social Democrat Foreign Minister Frank-Walter Steinmeier and the Christian Democrat Chancellor Merkel are just nuances apart. Both basically support a double strategy of negotiations and economic sanctions. Even the opposition Greens approve of it.
More critical voices have come from the socialist Left party. Some of its more leftist elements have called the fall of Yanukovych's pro-Russian government in Kyiv a "fascist Putsch" that was tolerated - or even instigated - by the West, and condemned the German government as a "economic warmonger" for its sanctions policy. The Left party continues to oppose sanctions against Russia, but even it offered praise for the way Merkel negotiated the Minsk ceasefire in February. "I am thankful to the chancellor and the foreign minister for the results of Minsk," said the Left's foreign policy spokesman Stefan Liebich, who represents its more moderate wing.
Germany's international significance has certainly grown as a result of the Ukraine crisis, but the praise for Berlin's crisis management can't hide the fact that a long-term strategy towards Russia is still a long way off. "We basically still don't know what Moscow wants exactly," said Thönnes. And for Kiesewetter, of the CDU, only one thing is certain: "Putin won't tie himself to the European order again."