Houthi fighters and their allies pulled back from central Aden on Friday following overnight clashes with gunmen loyal to President Abed Rabbo Mansour Hadi.
Witnesses said the Shiite rebels fled to the Khor Maksar neighborhood after one of their tanks was destroyed and another was seized by Hadi's supporters.
The southern port city of Aden is the final stronghold of fighters loyal to the exiled president, who fled Yemen for the Saudi capital, Riyadh, more than a week ago.
Western-backed Hadi supported by Saudi-led coalition
There were major concerns the impoverished Arab state would descend into civil war when Saudi Arabia launched Operation Decisive Storm on March 26 to halt the rebel advance.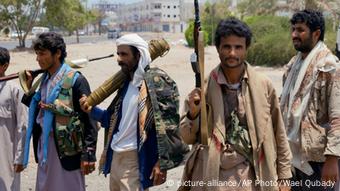 Houthi rebels in the southern port city of Aden
At one stage, Houthi rebels appeared to be making gains despite more than a week of airstrikes by the Saudi-led coalition.
The Houthis still control the capital, Sanaa, as well as swaths of the rest of the country. The air raids, however, finally drove rebels from the presidential compound in Aden on Friday, as the UN reported that more than 500 people had died in two weeks of fighting.
Tension had been mounting between Tehran and Riyadh, respectively the largest Shiite and Sunni Muslim powers in the Middle East.
Iran was accused of supporting the Houthi rebels and the overthrow of Hadi's administration, something which the Islamic Republic had denied.
The internal conflict also sparked fears that al Qaeda would try to expand its foothold in Yemen, which borders oil-rich Saudi Arabia and is located near key shipping routes.
Elsewhere, several countries have carried out evacuation operations in Yemen, including Turkey, Pakistan and China, with Beijing offering assistance to create a safe passage out of the Arab state.
lw/sms (AFP, AP, Reuters)