"Finding anyone alive in the flood zone is unlikely, but the search continues," Vasily Zubakin, the chairman of state-run hydroelectric company RusHydro, told news agencies via a spokesman.
Twelve people have been confirmed dead so far as a result of collapsed walls in a turbine room at the Sayano-Shushenskaya hydroelectric plant on Monday. Another 64 are still unaccounted for, Zubakin said.
Russia will investigate the cause of the accident. Some sources have claimed an explosion, others a water surge, that led to burst pipes and flooding in a turbine room.
Search for survivors continues nonetheless
In either case, the collapse happened during a change in work shifts, which meant more people than usual were present.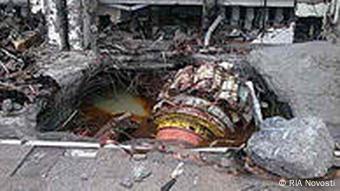 The accident happened during repairs to a turbogenerator unit
Despite dim hopes of finding survivors, the search for survivors will continue, Russia's Interfax news agency quoted Zubakin as saying.
After initial reports of the blast on Monday, many of those who lived downstream from the 242- meter (780 foot) high dam began evacuating their homes in panic.
However, Russia's minister of emergency situations, Sergei Shoigu, tried to calm the public by saying the dam itself is not damaged, and that there is little chance it will collapse.
The Sayano-Shushenskaya plant, run by RusHydro, lies on the Yeniesei river in southern Siberia. It is the world's fourth-largest hydroelectric dam.
The Russian government has promised financial aid to families of the deceased. It has also said it will boost the number of rescue workers, from 900 to 1,300.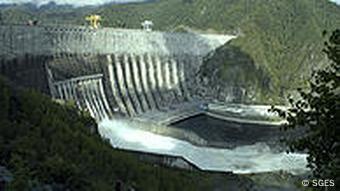 The massive dam, in better times
Experts were also scheduled to begin tackling the oil slick on the power station's 320-kilometer (200 mile) long reservoir.
The Sayano-Shushenskaya power station is the largest hydroelectric plant in Russia, with a capacity of 6.4 million kilowatts per hour. The generator powers aluminium plants downstream.
Concerns over power reserves
Russia's UC RUSAL, the world's largest aluminium producer, is considering a possible output cut due to the accident. This would free up capacity for more heating-energy needs ahead.
After an emergency meeting on the subject, RUSAL said: "One of the issues discussed was the possibility of reducing output at RUSAL's smelters to create additional reserves of energy required for the stable functioning of the region on the eve of the autumn-winter season, when the load on the energy system increases."
jen/AFP/dpa/Reuters
Editor: Trinity Hartman