President Francois Hollande met on Wednesday with Roman Catholic, Orthodox, Muslim and Jewish leaders as France copes with the second attack linked to "Islamic State" ("IS") in less than two weeks.
"We cannot allow ourselves to be dragged into the politics of Daesh ['Islamic State'], which wants to set the children of the same family against each other," said the Archbishop of Paris, Cardinal Andre Vingt-Trois, following his meeting with the president at the Elysee palace.
The rector of the Grand Mosque of Paris also weighed in on the attack, which was committed by 19-year-old Adel Kermiche, who had spent time in French jail after attempting to reach Syria via Turkey. Dalil Boubakeur said French Muslim institutions must be reformed in the wake of recent violence, adding that clerics also needed to be better trained.
Hollande later attended a defense council and cabinet meeting amid criticism over the government's failure to prevent the attacks in spite of an extended state of emergency.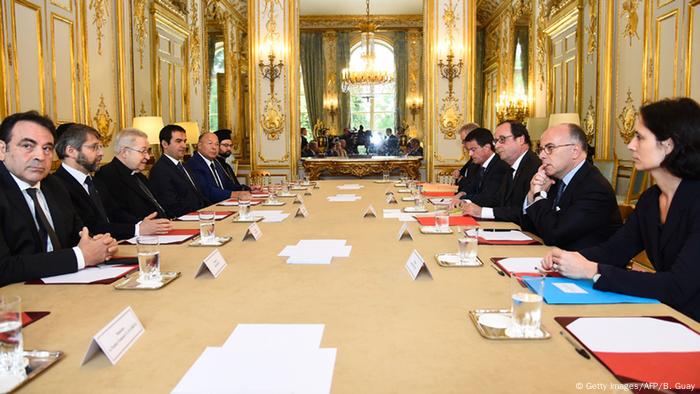 Representatives from various faiths met with Hollande on Wednesday following the attack that left a priest dead
Germany 'united in grief' with France
Also on Wednesday, German Chancellor Angela Merkel sent a letter of condolence to Hollande.
"The people of Germany are filled with grief over the fact that France has once again been the victim of inhuman violence," Merkel said.
"We're united in grief and tragedy for the victims," she added. "We're also united in the firm conviction that we will defeat terrorism together."
Germany has experienced its own spate of violent acts in the past week. First, a 17-year-old believed to be from Afghanistan attacked passengers on a train in Bavaria. Later, a Syrian migrant killed a woman in Reutlingen, and on the same day another Syrian blew himself up outside a music festival in Ansbach.
A 'cowardly' attack
France's most recent attack occurred on Tuesday when two men with knives took a group of people hostage in a Catholic Church. One of the men, Kermiche, then killed 84-year-old priest Jacques Hamel by forcing him to kneel and slitting his throat.
The men, who claimed to be part of IS, were later killed by police upon exiting the church.
Following the crime, Hollande called the attack "cowardly." A Vatican spokesman also expressed horror over what happened.
Former President Nicolas Sarkozy, who is expected to run again in a conservative primary, criticized the French left. "It has lost its bearings and is clinging to a mindset that is out of touch with reality," he told the newspaper Le Monde.
blc/kms (Reuters, AP, KNA)