An oil painting of a young woman believed to have been done by Adolf Hitler during Word War I was sold at auction for 60,000 euros ($74,000) in Germany Saturday.
"Portrait of a Girl" measures 63 x 48 cm (25 x 19 inches), and shows a woman in a rural setting, wearing a patterned red scarf draped over her head, shading her eyes. Her loose-fitting, partially open blouse reveals part of her breasts.
The woman is described as being Charlotte Lobjoie, believed to have been a lover of the future Nazi leader. Hitler allegedly met the French woman while serving in France during the war. A man named Jean-Marie Loret even claimed that he was Hitler's illegitimate son, born of their romantic affair. Loret published his autobiography, "Ton père s'appelait Hitler" (Your Father's name was Hitler) in 1981; he died four years later.
"Portrait of a Girl" was purchased by a Flemish industrialist about 50 years ago, according to Weidler, the Nuremberg-based auction house that put the painting up for sale.
Weidler said it has documents showing the painting had been exhibited at art galleries in Japan.
Read more: Who buys Hitler paintings
Signed 'A. Hitler'
The auction house also cited Werner Maser, a leading Hitler scholar who died in 2007, who was familiar with the painting.
Viewed as a history revisionist, Maser wrote several books about Hitler, seeking to provide insight into the mind of the Nazi leader by closely examining his drawings, letters and notes.
The German expert was also the one who first brought Jean-Marie Loret's claim to public attention in 1977. The dominant view of historians is however that Hitler's paternity of Loret is unlikely or impossible.
Read more: Father who named children 'Adolf Hitler' and 'Eva Braun' changes own name to Hitler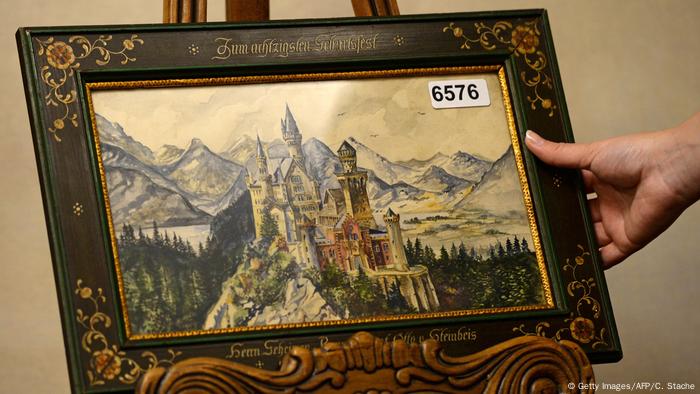 In 2015 the Weidler auction house sold a water color of the Neuschwanstein Castle in Bavaria, also believed to have been done by the former Nazi leader. That painting fetched 100,000 euros.
Both paintings were signed A. Hitler.
Because Hitler didn't develop his own artistic style, it is difficult to prove the authenticity of paintings that bear his signature, art historians say.
Hitler tried to make a living as a painter in the 1920s, and some believe he might have side-stepped politics had he been more successful with a paint brush.
Read more: Hitler stole paintings - and hid in one
bik/eg (Reuters, dpa)
Each evening at 1830 UTC, DW's editors send out a selection of the day's hard news and quality feature journalism. You can sign up to receive it directly here.