The highly anticipated art auction season opened Sunday with a specially curated sale where a sculpture of a kneeling Hitler by Italian artist Maurizio Cattelan fetched a record price for the artist.
Entitled simply "Him" the controversial sculpture of Hitler, appears as a small child kneeling in prayer when approached from the rear. But from the front, the viewer comes face-to-face with the unmistakable likeness of the 20th century dictator.
"Hitler is pure fear. It's an image of terrible pain. It even hurts to pronounce his name. And yet that name has conquered my memory. It lives in my head, even if it remains taboo,"Cattelan said. "I wanted to destroy it myself. I changed my mind a thousand times, every day."
'Extremely disconcerting'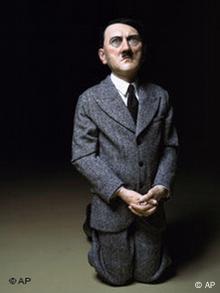 Created in 2001, Catellan crafted the piece with human hair, wax and polyester resin
Catellan "defied the taboos of representation by disguising evil incarnate under a cloak of innocence," curator Loic Gouzer, a deputy chairman of Christie's auction house in New York, said.
The piece that sold is the artist's proof from an edition of three and was included in the artist's retrospective at the Guggenheim in 2011.
The previous record for a work by the 55-year-old Cattelan was $7.9 million
Some 1,500 pieces of art are to set to be auctioned over five days and are expected to fetch more than a billion dollars.
jar/bw (AP, AFP)