Ratko Mladic sounded cheerful while making an unexpected call to a Serbian TV show from the lockup facilities of an international court on Friday.
"Kisses from Grandpa Ratko," said the one-time Serb general, addressing the two hosts and the studio guests.
Read more: Who is Ratko Mladic, the 'Butcher of Bosnia'?
The 75-year-old is currently jailed in the Netherlands. Last year, he was sentenced to life in prison for genocide and other war crimes during the 1990s Bosnian war. Specifically, he was found guilty of the 1995 Srebrenica massacre, when Serb forces under his command killed over 8,000 Bosniak men and boys. He has since appealed the verdict handed down by the UN International Criminal Tribunal for the Former Yugoslavia and is awaiting the outcome of the appeal.
But despite the atrocities laid to his charge, Serb nationalists still honor Mladic as a hero.
Mladic took part in the nationwide broadcast when his son, Darko Mladic, called him from the studio while appearing live on the show. Serbian firebrand nationalist Vojislav Seselj was also among the guests. Seselj, like Mladic, is a convicted war criminal who has spent years in jail.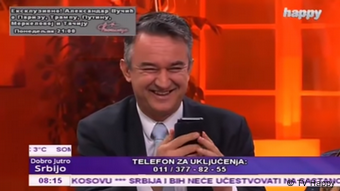 Darko Mladic, son of Ratko Mladic, used his cellphone to call the Serb military leader
"Give lots of love to Voja; tell him to lose some weight," Ratko Mladic says at one point, referring to Seselj by his nickname and reminiscing about their chess games while in lockup together in Scheveningen.
The guests and the two hosts laugh and thank the ex-general for the call-in.
Read more: 'Insolent' DW interview with Serbian PM Ana Brnabic causes media stir
Just another day on the free market
While the incident prompted some protest from the ever-shrinking liberal public in Serbia, the ruling coalition ignored it. The government, controlled by former Seselj ally Aleksandar Vucic, is nominally pro-Western while simultaneously pushing a nationalistic narrative for domestic use. The government's policy is to describe the Srebrenica massacre as a "crime" but not genocide.
Talking to Serbian media, a member of the media regulator REM said there was "nothing controversial" about Mladic going on air.
"Even people sentenced for war crimes have a right to make phone calls," REM board member Olivera Zekic told the Serbian Insajder outlet. "Haven't you ever heard of the fight to draw in viewers on the market?"
Seselj's parliament and reality shows
Ratko Mladic's phone call is only the latest symptom of Serbian elites' acceptance of war criminals. Vojislav Seselj is still a deputy in the Serbian parliament, despite the nation's law stating that lawmakers are obliged to give up their seats if convicted to a prison term of six months or more. Seselj also appeared as a "guest star" several times in a popular reality show.
Veselin Sljivancanin, a military officer convicted of aiding and abetting the torture of prisoners in Croatia, is taking part in campaign events of the ruling SNS party. Earlier this year, a Serbian court fined activists who protested Sljivancanin's speech at a political conference. President Aleksandar Vucic commented it was unacceptable to use "goon squads" to interrupt political opponents.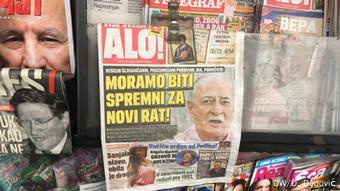 Sljivancanin (center) recently gave an interview to the Serbian Alo! newspaper, saying that Serbia needed to be ready for 'a new war'
Nikola Sainovic, once a close aide of late Serbian dictator Slobodan Milosevic, was elected to the main board of the SPS party, a junior partner in the current ruling coalition, after serving two-thirds of his sentence for war crimes. Other convicted war criminals have been invited to give guest lectures at Serbia's military academy or have had books promoted by the country's Defense Ministry.
'Let's not disregard the contribution'
Unfortunately, political elites in other ex-Yugoslav states are just as quick to embrace their own war criminals. In September 2018, Defense Minister Damir Krsticevic greeted "General Mirko Norac" at an event marking an anniversary of a Croatian wartime operation, Medacki Dzep, to the cheers of those attending.
Norac had been stripped of his rank after being sentenced for war crimes, including atrocities during Medacki Dzep. He personally shot and killed an unarmed elderly woman in the nearby town and ordered the execution of Serb civilians.
When asked about Norac, Minister Krsticevic said that Croatia should be proud of the military operation and that Norac was "carrying his cross for the event which happened."
"I am glad to have him here with us," he said.
Read more: Thousands attend ceremony honoring Slobodan Praljak in Croatia
Separately, Croatia's minister of veterans, Tomo Medved, said that Norac "served his term, but let's not disregard the contribution he had given."
"Everyone should be honored and respected for the things they did in defense of the homeland," Medved told the regional N1 TV channel.
Also in September, Medved was criticized for arranging a transfer from jail to a spa for convicted war criminal Tomislav Mercep on medical grounds. Mercep is currently serving a seven-year prison term after it was determined that his paramilitaries killed 43 Serb civilians. Last year, Croatian Prime Minister Andrej Plenkovic praised convicted war criminal Slobodan Praljak, who poisoned himself upon hearing his guilty verdict. Plenkovic said Praljak's suicide was a "powerful message" against the "deep moral injustice" wrought by the court based in The Hague.
Honor of generals
In Bosnia, supporters of suspected war criminal Atif Dudakovic took to the streets to protest his arrest in April this year. The 64-year-old Muslim general was also publicly backed by regional politician Muharem Fiso, the minister for veteran affairs of the Sarajevo Canton.
"After an honorable battle, we have lived to see the day when we must defend the honor of our generals," the official said. "The [military] commanders today have our moral support, but the system and the state need to find other methods to help these people."
The popular general and 16 of his aides are charged with killing over 300 people, abuse of civilians and prisoners, and destroying dozens of Serb churches and religious buildings. Dudakovic has not yet been convicted, despite a video recording showing him ordering his soldiers to execute two prisoners "on the spot." The charismatic military leader claims the video was fabricated.
Read more: From Yugoslav wars to an ever-tense peace
In Kosovo, the state's parliament held a minute of silence to mark the death of convicted war criminal Haradin Bala in February this year. Bala was previously found guilty of murder and torture of both Serb prisoners and suspected Albanian collaborators, and of enforcing inhumane conditions in a guerilla prison camp.
While Croatia has been an EU member since 2013, and Bosnia-Herzegovina, Kosovo and Serbia are vying for membership, Brussels' response to this flirting with war criminals has been lukewarm at best. Governments across the region seem determined to fuel the fires, using nationalism as an easy way to rally voters in a region burdened by poverty, unemployment and mass emigration.
Each evening at 1830 UTC, DW's editors send out a selection of the day's hard news and quality feature journalism. You can sign up to receive it directly here.