Germany's most notorious gun-maker, whose rifles have armed NATO armies, US police forces, Middle East dictatorships and terrorist organizations, has apparently discovered a conscience. An unnamed male employee has told the DPA news agency that the firm was about to change direction.
"We only want to deliver to solid countries - that means unequivocally democratic, definitely not corrupt, and in NATO or close to NATO," the employee, described as a "manager," was quoted as saying. He said such countries would now be considered "green," while others, including Saudi Arabia, Mexico, Turkey (ironically a NATO member), and India were "yellow" and therefore taboo.
He put the strategy shift down to Germany's stricter arms export policy (even though Germany's weapons sales, especially in ammunition, have risen recently), as well as the negative press that H&K has received in recent months. "We can certainly understand the ethical criticism of such exports," he said, before adding that the strategy was still being "heatedly debated" in the company.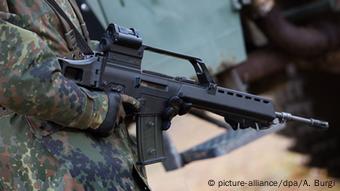 The G36 is one of the favorite guns among the world's militaries
Cautious welcome, but no guarantees
Peace organizations and conflict research NGOs cautiously welcomed the statements. "In principle this is exactly what we have called for," said Wolf-Christian Paes of the Bonn International Center for Conversion (BICC), but added that this was "jumping on a train" brought about by government policy, rather than motivated by doing good. He also pointed out that H&K's previous sales policies - which he described as "aggressive" - were also hardly unique in an industry which routinely exploits all the legal leeway it can find.
Jürgen Grässlin, one of Germany's leading anti-arms export activists and source of some of the lawsuits against H&K, took a more skeptical tone. He called the statement to DPA "surprising" as it "contradicted the uninhibited business policy of direct exports and license grants practiced for decades," he said in a statement.
In its 67-year history, H&K has sold guns and ammunition to dozens of countries, including Iran, Sudan, Chad and Mexico. As many as 15 countries, Saudi Arabia and Iran among them, have acquired licenses to manufacture its most popular guns - the G3 assault rifle and its successor, the G36 - in their own factories, both of which are now widely used by various sides in conflicts in the Middle East and North Africa.
On top of this, several thousand G36s were sold to Mexico between 2003 and 2011, where they found their way into the drug wars in the north of the country, a deal that violated Germany's ban on selling weapons into a conflict zone. Some of H&K's former managers will go on trial over the transaction in Stuttgart in early 2017.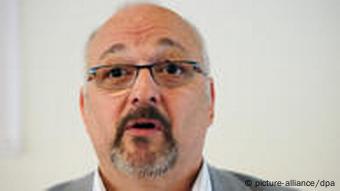 Grässlin has his doubts about Heckler & Koch's new plan
Grässlin also noted that an anonymous statement to a news agency amounted to less than an official pledge from the company itself, and suggested that it allowed the company to break its word without anyone being held personally accountable. Nor did the company's supposed new strategy appear to cover its subsidiary in the US. When contacted by DW, a spokeswoman for H&K said a statement on the report would be issued this week.
"A more meaningful first step would be the foundation and financing of a fund for the victims of Heckler & Koch around the world," Grässlin said, estimating that someone is killed by an H&K gun every 13 minutes.
Financial fortunes
The company is also in some financial difficulty - it was forced to take out a loan of 295 million euros ($313 million) in 2011 at a rate of 9.5 percent, and majority shareholder Andreas Heeschen injected 60 million euros of capital into the company in 2015.
Ratings agency Moody's still downgraded H&K's rating in December that year, and the company's bonds plummeted this year when German Defense Minister Ursula von der Leyen vowed to replace the G36 as the German military's standard rifle following alleged accuracy issues. "In this emergency situation, image building is desperately needed," commented Grässlin.
Nevertheless, the company was able to announce some major contracts recently - both the French and Lithuanian militaries have ordered huge batches of G36 rifles, and the increased threat of terrorism and the uncertainty among NATO countries created by Donald Trump's election in the US promise a boom for Europe's arms makers. Indeed, H&K announced a profit of 3.8 million euros over the first three quarters of 2016 - compared to a loss of 10.3 million euros over the same period last year.