On a stiflingly hot evening in Cairo's affluent Zamalek neighborhood, the city's young and trendy were gearing up for another night out in town: A group of girls in tight jeans and low-cut t-shirts, their hair carefully coiffed above copious layers of make-up, disappeared into a trendy restaurant as expensive cars slowly cruised past.
Behind a non-descript door, music was pumping in a heaving, smoke-filled bar. As two women in short dresses pushed their way in, a waiter singled out a women in a hijab, apologetically telling her that women wearing headscarves were not allowed in the bar, adding that it was not his choice but rather down to "regulations imposed by the owner."
It's an incident Dina Hassan has experienced often in the last two to three years: The eloquent 25-year-old forensic clinical psychologist, fashionable in a tight blazer and designer trousers, told DW that she had repeatedly been denied entry to several high-end restaurants and bars and even been told to leave halfway through the evening if she did not remove her headscarf or at least show her neck. Every time, she said, she felt angry and violated that others could determine what she wears and where she goes.
Social media protest
It was this anger that prompted Hassan, who started wearing a headscarf when she was 19, to post an angry, sarcastic comment on Facebook that went viral last week. She smiled as she recalled her post: "I wrote a bunch of names of places that wouldn't let you in. Then I wrote: Wow, I'm really happy in my country, I don't feel discriminated at all. What is next: gas chambers?"
Hassan, who spent part of her childhood in Germany, said she was surprised at the public's reaction, which quickly morphed into the hashtag #against_hijab_racism: Thousands of people shared their stories of being denied access to private beaches, told to leave restaurants and bars in the evening once they started serving alcohol or told they were not welcome in high-end gyms.
Hassan admitted that it's an upper-class problem in a country where the vast majority of women wear headscarves, and an issues that affects those who are affluent enough to afford the hefty cover fees charged by the country's expensive bars and beaches. But it affects her life, she told DW, "I feel like a second-class citizen."
'If you're veiled, you have nowhere to go at night'
In her circle, she said, "If you are veiled, then you have nowhere to go at night." She said she was limited to a handful of places for a night out and often acquaintances would not invite her to parties in bars and restaurants known for barring veiled women. Some even cropped her out of pictures before posting them on Facebook or Instagram. In upper-class circles, where many aspire to Western lifestyles and culture, many felt "uncomfortable around veiled people," she said, attempting an explanation.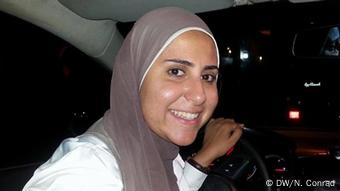 Pakinam said you get a label when you put on a hijab
Or maybe, she added, restaurant managers assumed guests might feel uncomfortable around someone who reminded them of their religion, which forbids alcohol. A notion, she said, that was ridiculous: "I don't care if people drink or smoke or whatever - it's their choice." And, increasingly, she said, being veiled was often seen as an indicator of a low-class. She had been told, she said, that she "looked like a maid."
Others agreed: Pakinam Hassan Nasser, a 29-year-old senior financial planner in an international company in Cairo, is convinced that - in a country obsessed with selfies and constant Facebook updates - certain restaurants and bars are so concerned with creating an exclusive and Western image that veiled women just don't fit in. "You get labeled once you put a scarf on your head," she told DW.
Why is my hijab your problem?
Which, she said, was ridiculous: Veiled women, too, could be classy, pointing to her fashionable skinny jeans, her long, white silk blouse and lilac headscarf, which were all, she said, brand clothes. "Brands have started designing fashion lines for veiled women, so it's easier to dress fashionably."
But in Egypt's upper-scale establishments, many still disagree and so, prompted by the response to Dina's post, Pakinam created the Facebook page "Hijab Racism - Why is my Hijab your Problem?" last week, which so far has received more than 11,000 likes and has been flooded with comments- most positive, some abusive. Her aim, she said, was to push for change and get the government to act.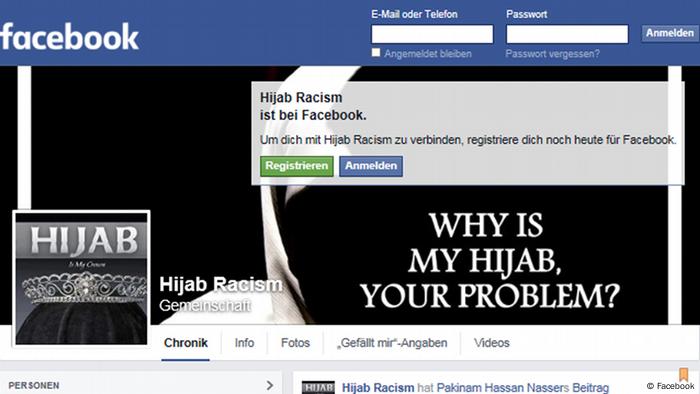 Pakinam Hassan Nasser's page on Facebook has over 11,000 fans
A spokeswoman for the Ministry of Tourism told DW that the ministry hadn't received any formal complaints concerning the banning of veiled women adding that it would take appropriate action if such a complaint were filed. But, she said, many privately owned establishments had dress codes "and some people fail to understand this."
But for women like Dina and Pakinam that's beside the point. For them, it's a matter of principle.
"It's not as if we can't live without these places," Pekinam told DW. "No, we might get the right and then never go there."
She grinned, as another group of noisy girls dressed to the nines sauntered past: "Look: Egyptian society is a very judgmental, sometimes you'll get criticized for wearing a headscarf - and in other parts of the society you'll get criticized for not wearing one."
Heba Farouk Mahfouz contributed to this report