The front page of the "Bild am Sonntag" newspaper may well have ruined Angela Merkel's breakfast on Sunday. Europe's biggest-selling newspaper featured a dark, full-page silhouette of the German chancellor's head, containing the headline "Is Merkel still the right one?" - questioning whether she is really fit to govern.
In between the words of this rhetorical question, the tabloid printed what it considered Merkel's main problems: "lack of respect, lack of authority, power struggles" - "terrorism, criminality, overburdened authorities," before adding, "Merkel's refugee policy on the point of failure."
It was arguably the most direct attack on a leader whose popularity has maintained virtually miraculous levels throughout her decade-long tenure at the head of Germany's biggest economy. The fact that it came from the biggest horse in the stable of Germany's most powerful publishing house - the Axel Springer Verlag - may have stung all the more.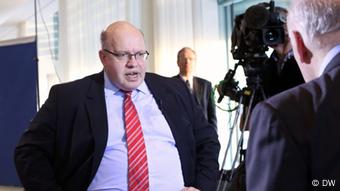 Altmaier had to field a question on Merkel's potential resignation
Much of this so-called "post-Colognialism" criticism is due to the heightened reaction and newly-feverish media attention to the refugee crisis following the sexual assaults and thefts that took place at Cologne's main railway station on New Year's Eve. Axel Springer's other major daily, "Die Welt," has also been relentlessly critical of the authorities, and said that Merkel's "back was against the wall" over the refugee crisis.
Criticism 'inevitable'
On top of that, when Merkel's chief-of-staff Peter Altmaier was forced to answer the "Bild am Sonntag" question directly on a TV discussion show on Sunday night, many papers felt he did not give the most convincing of answers, saying only that all ministers are sworn to uphold the German constitution. "No word of support in the CDU, no word of agreement from the population," "Die Welt" commented.
In fact, there was always little chance of support from Merkel's own party. Christian Democratic Union MPs have recently become Merkel's fiercest critics in her government. "There is quite a debate, there is some anger and frustration, because the people in her parliamentary faction get to hear all sorts of things on the weekend in their constituencies," said Josef Janning, political analyst at the European Council on Foreign Relations. "In a way it is inevitable. I think it's a consequence of the dimension of the challenge that she's facing. It would be a miracle if there wasn't criticism of her."
Janning is also cautious of the assumption that tabloid media outlets have the power to guide public opinion. "I wouldn't even say that Merkel herself feels that Springer has deserted her," he told DW. "It's a double-edged sword - by running a title page like this, you can rally people in favor of her, or you can encourage those who are critical of her to speak out."
"I don't think that even Germany's biggest newspaper has that power," he said. "If you compare Germany to the UK, which has the Sun. I think in the UK there is a fairly widespread cynical view of politics - in this country, people might not have much respect for politicians, but they think politics is a serious thing. I don't think Springer's editorial board would want to contribute to Merkel's fall if their sense was that there would be chaos afterwards. They would feel that politics is too important to do this."
Merkel still in credit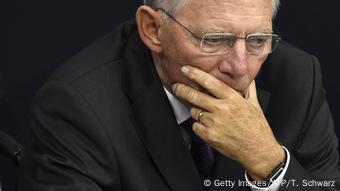 Finance Minister Schäuble caused an uproar by suggesting a new tax to pay for refugees
Nevertheless, public opinion of Merkel's handling of the refugee crisis dipped sharply following Cologne. A much-publicized poll by state broadcaster ZDF found that the percentage of people who considered her refugee policy "good" dropped from 47 to 39 percent in the month between December 15 last year and January 15 this year.
She has even had to take criticism from her center-left coalition partners, the Social Democratic Party. Meanwhile, her closest allies are not exactly helping - in the context of the above, Finance Minister Wolfgang Schäuble's proposal to introduce a Europe-wide gasoline levy to help pay for refugees essentially blew up in his face and could barely have been more poorly timed.
On the other hand, Janning argues that Merkel is secure for now - mainly because he sees no way that any other party leader, whatever their political stripes, would be able to do any better.
"She's under pressure, and the pressure on her is growing, but at the same there is a lack of an alternative - there is no reasonable and actionable alternative to her policy," he said. "Now, people are saying that she has maneuvered the country into a position where it has no alternative, but still, her position is not challenged by other ideas - just by criticism of what she does."