Guatemalan President Jimmy Morales on Sunday announced he would return his country's embassy in Israel to Jerusalem in May during an annual policy conference held by the American Israel Public Affairs Committee (AIPAC).
"In May of this year, we will celebrate Israel's 70th anniversary, and under my instructions, two days after the US moves its embassy, Guatemala will return and permanently move its embassy to Jerusalem," said Morales.
"I would like to thank President Trump for leading the way. His courageous decision has encouraged us to do what is right."
Read more: Two reasons behind Trump's decision to recognize Jerusalem as Israel's capital
Guatemala was one of the few countries to endorse US President Donald Trump's decision to unilaterally recognize Jerusalem as Israel's capital, a move that prompted outrage across the international community.
Morales, whose base includes strong conservative Christian support, said his decision "strongly evidences Guatemala's continued support and solidarity with the people of Israel."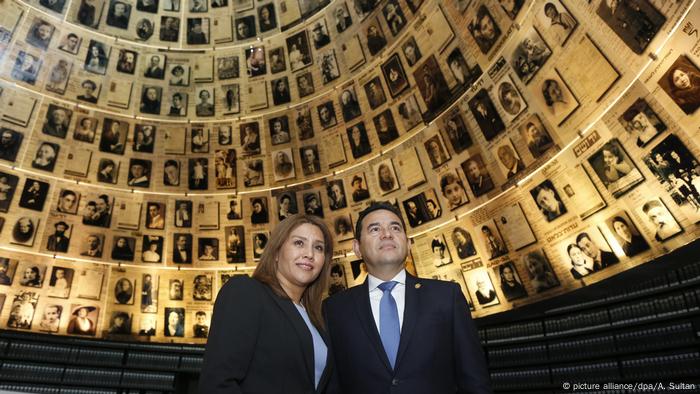 President Jimmy Morales (right) is a vocal supporter of Israel
One of the few
Guatemala, along with a handful of countries, maintained a diplomatic mission in Jerusalem before 1980, but relocated it that year after the UN Security Council passed a resolution pressuring them to move their embassies elsewhere.
Trump's decision to recognize Jerusalem as Israel's capital has triggered widespread criticism within the international community for undermining the peace process aimed at finding a political solution to the Israeli-Palestinian conflict.
Read more: Religion must rise above politics in Jerusalem, says Father Nicodemus
Federica Mogherini, the EU's top diplomat, last year said Brussels will continue to recognize the "international consensus" on Jerusalem, which insists that the city's status must be settled in peace talks with the Palestinians.
The status of Jerusalem has been a major sticking point during previous negotiations between Israelis and Palestinians, especially on the subject of how to divide sovereignty and oversee holy sites.
ls/cmk (Reuters, EFE)
Every evening at 1830 UTC, DW editors send out a selection of the day's hard news and quality feature journalism. You can sign up to receive it directly here.