The dismay is apparent in Conny Lennenberg's face. Typically, said the regional director of World Vision of the Middle East - a Christian humanitarian organization dedicated to working with children - the group could rely on people's compassion and donations in response to in-depth media reports over humanitarian catastrophes.
However, when it comes to the Syrian civil war, she told DW that this has not been the case. "Even though you can see it on TV every night, somehow people have not been developing enough compassion with the misery and suffering of children - and this is a major tragedy for us."
World Vision Germany has invested more than 1.5 million euros ($2 million) since the crisis began, and further projects worth 700,000 euros ($934,000) are being planned. The majority of these resources were granted to Lebanon, where most of the Syrian civil war refugees live. The country of fewer than 4 million people is only three-quarters the size of the United States state of Connecticut, but by now it has accommodated more than a million Syrians. They live in tents in temporary camps, sometimes in terrible conditions.
Emergency schools
Word Vision first and foremost attempts to provide basic supplies. It installed latrines and a water system at a refugee camp in the Bekaa valley with the help of the German Federal Foreign Office. World Vision also hands out food vouchers.
The aid organization also tries help with educational training for the refugee children. "The challenge is that most of the Syrian children only speak Arabic, while the children in Lebanon are mostly taught in English or French," said Christoph Waffenschmidt, chairman of World Vision Germany.
Word Vision is currently taking advantage of the summer holidays in Lebanon in order to teach refugee children in empty schools. The teachers of the refugee children have largely fled Syria along with their pupils.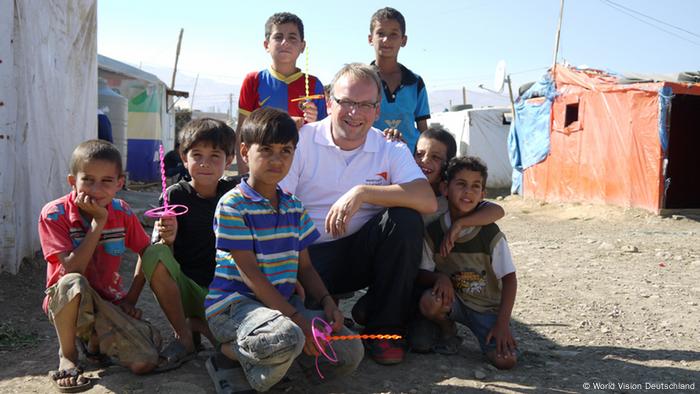 Waffenschmidt said the effects of the war will linger long after it ends
Educational crisis
Only 38 percent of refugee children attend a normal elementary school, while only 2 percent attend high school. Waffenschmidt warned that on top of the trauma of war, an educational crisis might follow. He added that many of the children and teenagers who fled their homes see few positive prospects for their lives. "Even after an immediate end to the war, Syria will have to suffer the consequences for a long time," Waffenschmidt said.
In order to better help the refugee children, World Vision is seeking more support from states and citizens around the world. Germany is already doing its part, but the support could be even greater, according to the aid organization. After all, it is not only the refugee children who need help. "We are following the tense situation in Lebanon with great concern," Waffenschmidt said. He estimates that several camps have doubled their capacity since last year.
This influx of refugees is putting immense pressure on the healthcare and education system, as well as on the energy supply - which can be felt by every Lebanese. "A mother now has to wait substantially longer for an urgent doctor's appointment for her little daughter, and teenagers cannot play football at their sports facilities anymore because they are being used as a camp for Syrian refugees."
More money needed
At the same time, Syrian refugees have to come up with the money to pay for their housing or the land upon which their tent is built. However, most of them don't have any money. So they take on jobs that pay very little in order to have any sort of income. "This triggers a spiral that drives down wages even further," said Waffenschmidt.
World Vision is asking the international community to not abandon Syria and its neighboring countries. Certain measures are especially vital for the child refugees, such as uninterrupted school education in Arabic and the establishment of protected areas where children would safe from violence and exploitation. Moreover, information and help centers for those suffering from trauma also still need to be established.