Hollywood icon Barbra Streisand entered the stage of the Kodak Theatre in Los Angeles in March 2010 to begin her Oscar presentation for best director with these dramatic words: "From the five gifted nominees, tonight this winner could be, for the first time, a woman."
Before Streisand opened the decisive envelope, she paused for a moment as the television cameras focused on the nominated filmmaker, Kathryn Bigelow. Seconds later, the female director made Oscar history when she picked up the Academy Award for her war drama, "The Hurt Locker" — and beat out four male nominees including James Cameron and Quentin Tarantino.
Read more: 'The Shape of Water' leads Oscar race
'More seemed possible'
This was a key moment for many women filmmakers.
"When Kathryn Bigelow won the Oscar for best director it meant a great deal to me, personally," stated Greta Gerwig, the latest female best director nominee, in a recent New York Times interview. "Suddenly, there she was, and more seemed possible to me...I imagine that it impacted other young women as well who had dreams of being a director."
Back then, Gerwig was 26 years old. Today, eight years later, she is a frontrunner to follow in Bigelow's footsteps after the academy announced that the 34-year-old filmmaker had been nominated for best director for "Lady Bird," her feature film debut.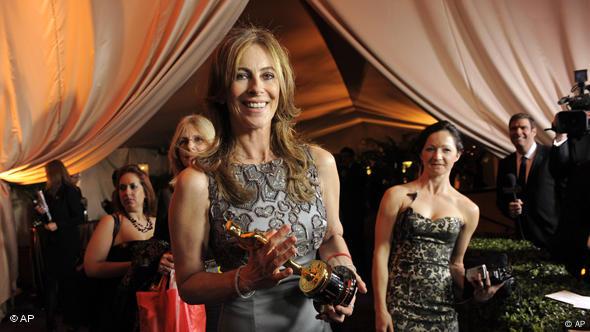 Kathryn Bigelow received the Oscar for best director in 2010. Greta Gerwig stands a good chance of following in her footsteps
Film industry's entrenched gender gap
In 90 years of Oscar history, only five female directors have ever been nominated for an Oscar for best director — namely Lina Wertmüller (1977), Jane Campion (1994), Sofia Coppola (2004), Kathryn Bigelow (2010), and now Greta Gerwig. In other words, almost 90 male directors have been nominated for each nominated woman in this category.
This alarming gender imbalance is repeated across other Hollywood film awards. At this year's Golden Globes ceremony, actress Natalie Portman pointed out the failure to acknowledge female directors. "And now, here are the all male nominees," she quipped as she introduced the nominees in the best director category. As with the Oscars, only one woman has ever won a Golden Globe for best director, and that was Barbra Streisand with "Yentl" in 1984.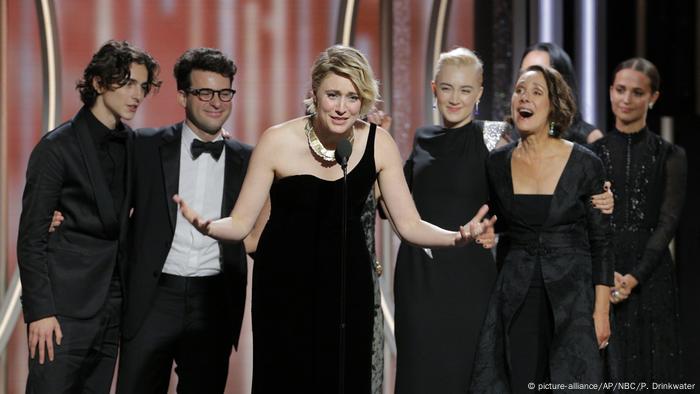 Gerwig won two Golden Globes for "Lady Bird," including best comedy or musical — but she missed out on a best director nod
Greta Gerwig's Oscar nomination is particularly significant at a time when women directors continue to struggle to successfully realize their projects.
"For more than hundred years, mostly men have been telling stories in films," states Silke Räbiger, head of the International Women's Film Festival. "Also promotion committees continue to be dominated by men who shy away from opening up towards new ways."
According to Räbiger, women's film ideas aren't given enough attention, nor do they receive sufficient funding support.
Gerwig distances herself from Woody Allen
Success as a director for Gerwig was preceded by several star turns as an actor. She starred alongside Ben Stiller in the hit 2010 comedy "Greenberg," which was nominated for a Golden Bear in Berlin.
In 2012, Gerwig appeared in Woody Allen's film "To Rome With Love." Recently, however, she publicly distanced herself from the director after his adoptive daughter, Dylan Farrow, has continued to accuse him of having sexually molested her when she was a child.
Though Allen denies the accusations, Gerwig explained to the New York Times that she will never again collaborate with the director. "I can only speak for myself and what I've come to is this: If I had known then what I know now, I would not have acted in the film. I have not worked for him again, and I will not work for him again."
Read more: Woody Allen rejects daughter's child molestation allegations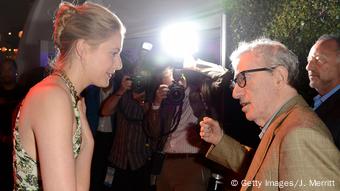 Gerwig has publicly distanced herself from Woody Allen
Turning point for women in showbiz?
Does Gerwig represent a new generation of women in Hollywood who can find success within a male-dominated industry?
"I think that this is a turning point for women, especially as writers, directors and producers," Gerwig told the New York Times. "There was such incredible work done this year by women — Dee Rees ("Mudbound"), Patty Jenkins ("Wonder Woman"), Angelina Jolie ("First They Killed My Father"), Maggie Betts ("Novitiate"), Kathryn Bigelow ("Detroit") and so many more — that I have great belief in the future of filmmaking being much closer to a 50-50 split between male and female creators. There are too many great filmmakers leading the charge for this not to be a turning point."
This year also saw the first ever Oscar nomination for a female cinematographer, namely Rachel Morrison for her lensing of American period drama, "Mudbound."
Gerwig will have to wait till March 4 to find out whether she will become the second female director to take home the prestigious best director Oscar. Either way, women filmmakers in Hollywood still have a long way to go.