Some 12,000 mostly young protesters ended Saturday's march at the embassy of the United States, which many Greeks accuse of having backed the nation's seven-year military dictatorship that began in 1967.
Wreaths and carnations were first laid at Athens' Technical University or Polytechnic, where 45 years ago the military regime crushed the student uprising — centered on the campus — resulting in dozens of deaths.
Read more: Shortwave radio exposed regime's actions
That crackdown is generally considered to have broken the junta's grip on power and helped the restoration of democracy in 1974.
Cups hurtled at Syriza
Saturday's march, overseen by 6,000 police, also saw protesters frustrated over Greece's eight-year debt crisis throw plastic bottles and coffee cups at governing Syriza party members outside the embassy.
Some marchers held banners with slogans denouncing fascism, imperialism, NATO and US foreign wars as well as austerity.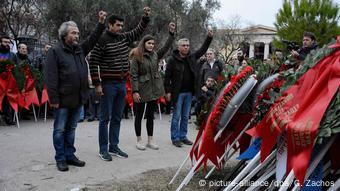 Trade unionists with salutes and wreaths
'Continuous battle for our freedom'
Protester and doctor Maria Marougadaki said the anniversary was a moment for Greeks to reaffirm their "continuous battle for our freedom, for our democracy and shows how timeless the slogans we chant are."
Prime Minister Alexis Tsipras, the EU nation's first radical leftist leader, said the commemoration focused attention on "new fights" against fascism, the far right and "neoliberal absolutism."
For the annual march, central Athens was partly closed to vehicles. Drones and a police helicopter hovered over Syntagma Square.
Marches culminate in clashes
Afterwards, Greek Alpha television showed police firing tear gas and water cannons at some 300 protesters who erected barricades and threw stones and firebombs near the Polytechnic.
Police also made eight arrests during unrest at a subway station near Athens' police headquarters.
In Thessaloniki, Greece's second-largest city, where some 7,500 demonstrators marked the anniversary, about 200 anarchists later threw firebombs. At least 10 people were detained.
Another five people were detained in Patras after attacking police officers.
Annual anti-junta demonstrations became a treasured anniversary for many Greeks after the junta's demise.
ipj/bw (Reuters, AFP, AP)