Greek Prime Minister Alexis Tsipras announced the clinching of a crucial bailout deal with Brussels on Monday, saying he'd "fought a tough battle" to avert "financial strangulation." But the prime minister, elected five months ago on a promise to end austerity, is now facing tough opposition at home.
Eurozone countries have offered a possible 86 billion euros ($95 billion) to Athens over the next three years, provided it speedily implements labor and tax reforms. Tsipras is set to meet with his left-wing Syriza party on Tuesday in an attempt to convince rebel party members to accept the deal.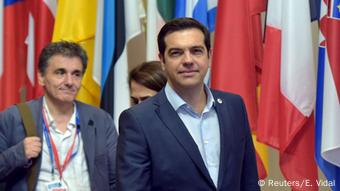 New elections could be in the offing for Tsipras
The Greek parliament would have to pass Brussels' proposal by Wednesday, after which the French and German parliaments, among others, would have to agree to the deal before discussing further prospects on spending the bailout funds.
"Clearly the Europe of austerity has won," George Katrougalos, Greece's minister for administrative reform, told BBC radio. "Either we are going to accept these draconian measures or it is the sudden death of our economy through the continuation of the closure of the banks. So it is an agreement that is practically forced upon us."
"We cannot agree to that," Panos Kammenos, leader of the right-wing Independent Greeks party - the junior partner in Tsipras' coalition government - told reporters after meeting the prime minister. He said that his party would decide on Tuesday whether to support the deal.
Greece's Labor Minister Panos Skourletis also said the terms were unviable and would lead to new elections later this year.
Brussels' offer
Under the deal, Athens would have to meet a tight timeline for enacting unpopular reforms, including pension and budget cuts, bankruptcy rules and EU banking laws.
Apart from the spending cuts and tax hikes, Greece also agreed to a quarantine of state assets worth 50 billion euros, including recapitalized banks, which would be sold off to pay its debt. German Chancellor Angela Merkel proposed that 12.5 billion euros from the proceeds go to investment in Greece.
Washington welcomed the deal, saying it "reflects a commitment by Greece's creditors to provide financial support and help create a path for Greece to return to growth and achieve debt sustainability."
"The agreement was laborious, but it has been concluded. There is no Grexit," European Commission President Jean-Claude Juncker told reporters after 17 hours of marathon talks early on Monday morning.
'A well-tuned orchestra'
Yanis Varoufakis, Greece's former finance minister, blamed the new agreement on German Finance Minister Wolfgang Schäuble, who he said "completely and utterly" dominated the Eurogroup ministers.
Speaking to the New Statesman magazine, he said, "It is all like a very well-tuned orchestra and he is the director," adding that one may "as well have sung the Swedish national anthem" and received the same reply.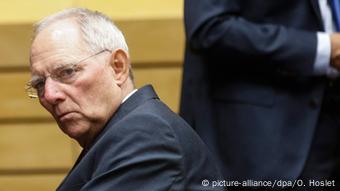 Greece's former finance minister accused Schäuble of "completely and utterly" dominating the Eurogroup
The July 5 referendum, in which 61 percent of Greeks voted against Brussels' proposed cuts, would have given Athens "an amazing boost" in its fight against the European Central Bank (ECB), Varoufakis argued.
The economist stepped down from his position following the referendum last week and after speculation that his arguments were making a deal with the EU difficult.
Greece needs 7 billion euros by July 20 to pay back the ECB, and 12 billion euros for another ECB payment in August. The European bank has been supplying emergency funding to Greek banks to keep them solvent.
Greece on Monday missed another debt payment to the International Monetary Fund (IMF), the second in two weeks. Greece's arrears to the IMF now total around 2 billion euros, IMF spokesman Gerry Rice said in a statement.
For full coverage of Monday's events, see our live blog.
mg/cmk (AFP, Reuters)