Under pressure from the European Broadcasting Union and Greece's top administrative court, ERT was closed in July 2013 after more than 60 years on air. Some 2,600 people lost their jobs provoking numerous demonstrations and was internationally criticized.
The service was replaced 11 months later by a scaled down version, Nerit, with a smaller budget and 500 employees.
Antonis Samaras, Greece's prime minister when the station was closed, had vowed to re-open ERT, however, to "repair" what he described as "a crime against Greek people and democracy."
But the task came to his successor, Alexis Tsipras of the Syriza party. The re-launch of the television channel was one of the election promises of the new government.
End to the black screen
The bill to re-open the public broadcaster pulled in support from the radical left coalition government and Greek Independents at the vote early on Wednesday, with the main opposition right party New Democracy voting against the legislation. The law states that ERT will cost 60 million euros ($66 million) a year and be covered by fees set at 3 euros per month.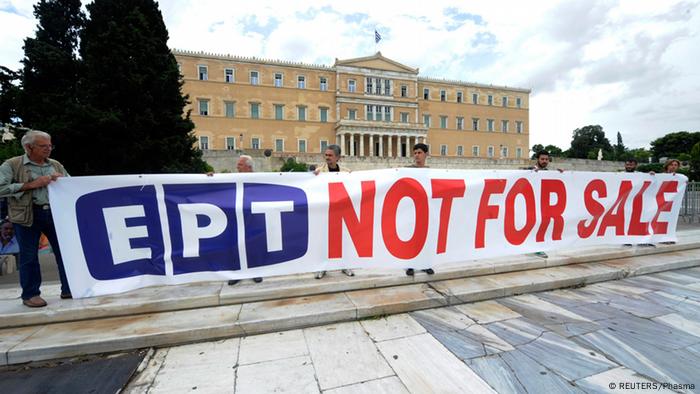 There were major protests in Greece when the closure of ERT, known in Greek as EPT, was announced
"This government is determined to put an end to the black screen," Syriza lawmaker Yiorgos Pantzas said hours before the law was passed. "This government of the left is re-opening ERT."
As part of the re-launch, some 1,550 former employees will have the opportunity to reintegrate into the company if they wish. Hundreds of workers retired after its closure, however, while others were hired by Nerit. According to media reports, 2,300 people would form the new ERT.
ksb/sms (dpa, AFP)